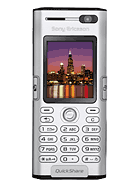 Dun really know what Sony Ericsson is doing sometimes, they make great phones with great features but most of them does not let u expand the memory even though the internal memory seemslike large enough for use. Like K700
nice 3G phone. but, k700 has a bigger memory than this phone. i've read in mobilegazette that this phone memory's is not expandable.
wonder if it's true.

Total of 606 user reviews and opinions for Sony Ericsson K600.