Sony Ericsson P990 review: A coveted smartphone
GSMArena team
,
04 August 2006
.
Office applications
Being a business smartphone, the Sony Ericsson comes with several preinstalled specialized office applications. They include the Quickoffice group which is a combined editor for MS Word (Quickword), MS Excel (Quicksheet), and MS PowerPoint (QuickPoint) documents. The Quickoffice group also comes with its own file manager which shows a list of all stored Office documents. There is also the option to filter the list furthermore via the available tabs and show the WORD, EXCEL and POWERPOINT documents separately.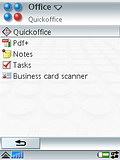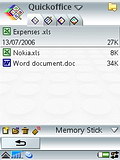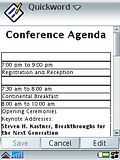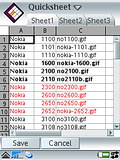 Office applications • QuickOffice file manager: full list • WORD document • EXCEL document
The office applications also include a PDF files viewer called PDF+. In the end it does its job well, but it's rather slower than the PDF viewer that comes preinstalled with the Nokia E-Series smartphones. As a general rule, viewing a PDF document on any mobile screen is a refined torture which involves a lot of scrolling in all directions.
A nice and rather innovative business application is the business card scanner. It allows you to capture a person's business card with the main camera, scan it and via character recognition insert all the information into a new contact in the phonebook. Furthermore, the business card image is stored as the person's personal picture that would be shown when you get a call from that contact. Our test with the business cards that we had available proved that the application does a great job and manages to recognize all the types of fonts used. The output is a really detailed contact entry which is ready to be saved in the phonebook.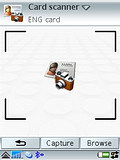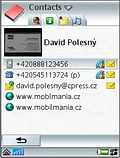 Business card scanner • scanner output
Truly amazing gaming
The Sony Ericsson P990 comes with two preinstalled games. The first one is the Java-based Tetris-like QuadraPop game seen on many other Sony Ericsson phones. Generally, it's meant to be played in the flip-closed mode. Unfortunately, obviously due to an OS bug, we couldn't make it start.
Never mind, the second game is far more interesting not only as gameplay, but also as a technology showcase. The Sony Ericsson is among the few phones that have a true graphics hardware accelerator and the Vijay Singh Pro Golf 2005 game is specially developed by Gameloft in order to show its capabilities. We must admit that it boasts stunning graphics and animation - that is for a mobile phone, of course. It offers seamless shifts between camera angles and your viewpoint shifts at least twice on every stroke, highlighting different parts of the shot.
Final words
Well, all we can say is that the Sony Ericsson P990 is an excellent smartphone and if you need one you should definitely consider it when making your buying decision. When all the software bugs are worked out, the end product would be a device which hardly has any serious flaws.
The competing HTC TyTN (a.k.a. Qtek 9600) and the Nokia E70 are rather good choices, too, so make your mind rather carefully when choosing the device that's right for you.
When considering some of the competing smartphones with QWERTY keyboards, bear in mind that the obvious advantage of P990 - its touchscreen might turn out to be its most obvious drawback in the first days of usage. The Series 60 user interface is usually a lot easier to get used to even for an inexperienced user. The UIQ 3.0 interface would create many inconveniences for a novice. You would have to use the stylus all the time and while it may seem easy, in fact it demands that both your hands are free which may not always be the case. With the flip opened, you can hardly dial a number, for example, without concentrating your whole attention to the smartphone's screen while many of the functions require that you open the flip in order to use them. So in the end, it's a bit of trade-off. And where you stand is entirely up to you.