Light of weight and heavy on looks, easy on the wallet and keen on getting things done, Sony Ericsson T700 is playing for keeps in the midrange. Stylish exterior, high-speed data, snappy interface and decent media squeeze a mighty punch out of this featherweight. The T700 might as well be in for an exciting Christmas. The kind of features people shop for, a hard-to-say-no price tag and styling that works for gals and lads alike do belong high on many wish lists. But what's the rush. Window-shopping, anyone?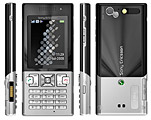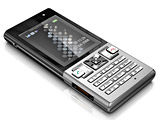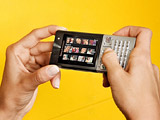 Sony Ericsson T700 official photos
Key features
Extra slim and solid, amazingly lightweight
Soft and responsive controls
Great aluminum finish
Quad-band GSM and EDGE, HSDPA, Bluetooth (with A2DP)
Media center
Access NetFront 3.4 with mouse pointer and in-page search
3.2 megapixel camera, photo LED, geotagging (via cell triangulation)
Fast photo browser
FM radio with RDS
Ships with a 512MB M2 card
Location services, Smart dialing, Manage messages
Reliable battery cover release mechanism
Finger print resistant covers
Main disadvantages
Only 25 MB of inbuilt memory
No autofocus
Tin-can sound from the feeble and hollow loudspeaker
No office document viewer
We guess there are still people out there who swear by the T610 and T630, and know deep inside the T-series all but made the company name, before those Cyber-shots and Walkmans came rushing in to steal the show.
It took Sony Ericsson T650 so much time to come along it almost felt like paying tribute - not reviving - a lineup that did so much for the brand. Now we know rekindling the T-series was not a one-off project.
Sony Ericsson T700 is here to give the first neo-T-series member a few nice kicks right where it matters most. The T700 keeps the solid metal looks and tops the T650 in terms of screen estate, user interface, network support (now quad-band), 3G speeds and EDGE.





Sony Ericsson T700 ready to roll
The neat T700 bar is the extra sweet 10 mm thick, which sends the T650 in the showers. Now, other than the unmistakably similar finish, the T650 and T700 have another point in common - a clone for each amidst the Walkman ranks.
You can't help the thought that Sony Ericsson simply crossed the T on W890. It's the same platform - from the navigation layout to the peculiar battery cover locks. Sony Ericsson T700 is offered in three color combos: Black on Silver, Black on Red and Shining Silver.
The T700 will be getting dagger looks from Samsung U800 Soul b and the ageing Nokia 6500 classic. All three handsets are equally solid on the must-have features and finished in true style. The impressive seamless thin bodies will be the major point of competition, while all the rest - from price tag to specs - is on almost equal footing.
Screen estate is consistent across the sample; the Nokia handset loses on megapixel count and lacks HSDPA speeds but is the thinnest of the bunch. The Soul bar is the only phone to lack quad-band GSM support.





Sony Ericsson T700 and Nokia 6500 classic head to head
The T700 is quite frugal on the built-in storage but the hot-swappable card slot deals with that. Storage on the 6500 classic is limited to 1GB.
Comparison
Sony Ericsson T700

Samsung U800

Nokia 6500 classic

Samsung M3510

Nokia 5310

Network
quad-band GSM, HSDPA
tri-band GSM,
HSDPA
quad-band GSM, dual-band UMTS
tri-band GSM/EDGE
tri-band GSM, tri-band HSDPA
Dimensions
104 x 48 x 10 mm 78 grams
111 x 46 x 9.9 mm 90.4 grams
109.8 x 45 x 9.5 mm 94 grams
109 x 46 x 9.9 mm 68 grams
103.8 x 44.7 x 9.9 mm 71 grams
Display
2" QVGA, 256K TFT
2" QVGA, 16M TFT
2" QVGA, 16M TFT
2" QVGA, 16M TFT
2.1" QVGA, 16M TFT
Camera
3 MP, geo-tagging (cell-ID), photo LED, QVGA@15fps video
3 MP, photo LED, QCIF@15fps video
2 MP, QCIF@15fps video
2 MP, video
2 MP, QCIF@15fps video
Card slot/
user memory
M2/ 25MB
microSD/ 1GB
no/ 1 GB
microSD/ 60MB
microSD/ 30MB
Other extras
TrackID, flash themes,
torch, dictaphone, Smart dialing
Document viewer
-
Accelerometer sensor,
3.5 mm AV jack,
music keys
shake control
Document viewer
3.5 mm AV jack,
music keys
Current price/
Released
170 euros/
September 2008
190 euros/
July 2008
190 euros/
October 2007
Not yet released
140 euros/
October 2007
Basically a redone Walkman, the T700 may as well be stealing some too from the music-centric Nokia 5310 and Samsung 3510 Beat b.
Now that we have the right kind of context for Sony Ericsson T700, let's waste no more time and get to business. Hardware, looks and handling are coming up.