Well-known user interface
Seeing is believing, so before we get to it you might want to get a feel of what's ahead. Sony Ericsson have set up a little interactive tool here for you to explore the phone interface and features.
Sony Ericsson T700 is a midrange handset based on the W890, so no major interface updates were to be expected in the first place. Probably the only thing to note here is that although we've seen enough of the interface version the T700 uses, we're still looking at a major upgrade from Sony Ericsson T650. The latter was released shortly before Sony Ericsson handsets started to offer the three-soft-key layout and dedicated Call and End keys.
The first thing to mention is the main menu structure. Except the traditional 4 x 3 grid matrix, the main menu is perked up with a couple of alternative views: rotating and single icon view.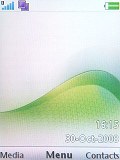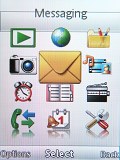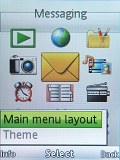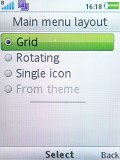 Setting up the main menu layout
Rotating view shows three animated front icons on the display, the center one showing the active selection. The other two icons are half-hidden, just as an indication of what comes next. Five other menu icons can be seen in the dim background.
The icon view displays a single icon at a time and a vertical bar, which features tiny icons for the other main menu entries. Neither of those view modes works with shortcut keys. Only the Grid view allows quick numeric keypad access - a good enough reason to forget about the other options once you've tried them.
The other boost is icon animation, some transitions and visual effects.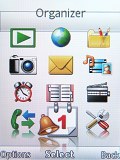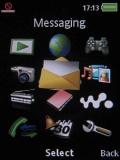 The new and the old animated icons compared
A common feature for most of the Sony Ericsson phones is the dedicated Flight mode. When turning the phone on, you may opt to start it directly into Flight mode but the Sony Ericsson T700 cannot work in Flight mode unless a SIM card is inserted. The other irritating thing is that to get in or out of flight mode you will actually need to restart the phone.
Sony Ericsson supports Flash Lite themes, which change the color scheme and wallpaper. Our handset had four themes preinstalled - Clarity, Crystal spark, Sequinity and Whisper. Except for the default Clarity theme, the other three are flash based with very pleasing effects and extra features. Some of the themes change color and looks during the day and as seasons change, while others display stylized images related to important international holidays like Christmas, New Year, Halloween, etc.
The T700 features the well-known Activity menu. The Running Apps tab of this menu offers basic multi-tasking - for example you can run two Java applications and in the same time listen to the radio or music player. The Activity menu also offers quick access to recent events, the web and My Shortcuts menu, which contains a user-defined list of shortcuts to favorite features.