Adequate 3.2 MP Camera
Sony Ericsson T700 sports a 3.2 MP fixed-focus camera with LED flash. Image quality is the nice surprise we're saving for later on.
The 3.2 MP camera offers a basic range of features but includes geotagging (based on cell-ID). The camera is capable of maximum image resolution of 2048 x 1536 pixels with average file size of about 1 MB. The most notable feature in the interface is probably the Cyber-shot styling.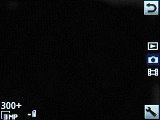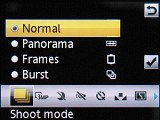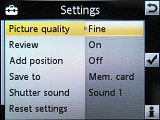 Cyber-shot v2.0 camera user interface: viewfinder • viewfinder with settings • multi menu
Settings on toolbar with pop-up submenus and the Multi Menu are well known since K850 and do help the user experience. Traditionally, the viewfinder toolbar lets you control shoot mode, scenes, picture size, flash, self-timer, white balance, effects, and settings (Multi menu).
Sony Ericsson T700 doesn't have GPS on-board but is capable of putting standard GPS coordinates in images based on cell tower triangulation. This seems to work quite fine with accurate GPS data in dense city areas, where cell towers are closely positioned. We are somehow uncertain about this level of accuracy in other areas with cell towers quite apart. When browsing tagged images in the gallery, you have access to a "View on map" tab from the options menu, which displays your location directly on the preinstalled Google Maps. If you pair the phone with an external GPS receiver, the geotagging feature automatically starts to use it to collect exact GPS coordinates for the images.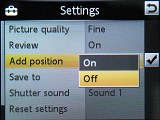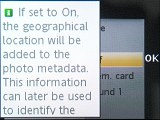 The Add position setting in the menu
That the toolbar is only enabled for one-way scrolling is a certain drawback. To put this straight - in order to reach the Multi Menu you have to pass all the other settings on the toolbar, as it's the last item there. Looped browsing of items on the toolbar should be an option, as with the camera interfaces of competing brands.
The limited camera features and the lack of autofocus may have made you rush to a conclusion about image quality. We for one were pleasantly surprised with the images T700 produced.
What you'll notice is pleasingly mild sharpening and the so typical Sony Ericsson purple fringing well under control. The levels of fine detail are relatively low though. In some images we see strange patterns around the corners of windows or walls comparable to the effect of strong level file compression.
Generally, the camera samples of T700 are a bit above average compared to most of the other 3MP camera phones we've reviewed until now.





Sony Ericsson T700 camera samples
And there is a couple of images downsized to 1024x768 pixels.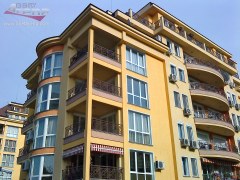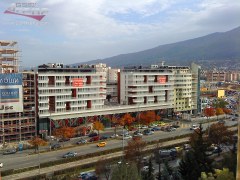 Sony Ericsson T700 camera samples downsized to 1024 pixels
T700 is also capable of capturing video but is strongly limited to the unacceptable QVGA resolution at 15fps recorded in mp4 format.
Web browsing
Sony Ericsson T700 has an Access NetFront browser v3.4. Elaborate web pages are rendered well and there are lots of configurable settings too. There is also a dedicated fullscreen mode. The other view modes include Landscape, Text only, Pan and Zoom, and Zoom page. The Panning/scrolling speed is also up to standard.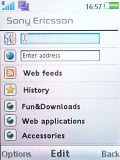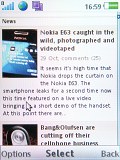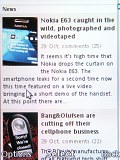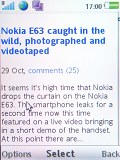 The different view modes of the browser
The Sony Ericsson T700 web browser offers a virtual mouse pointer, which is a real pleasure to work with. Another interesting and practical feature is the "Find on page" option. It searches the loaded web page and the first match is immediately listed as soon as you type a letter.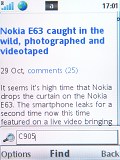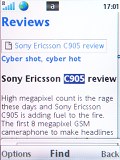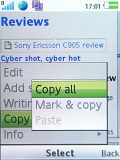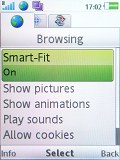 The find on page and copy options • some of the options of the browser
If are still not satisfied with this browser, you can always count on the superb OperaMini browser.
Connectivity on par
The connectivity options of T700 are quite up to the browser standard. Quad-band GSM/GPRS/EDGE and 3G with HSDPA are all on board, so there is virtually no spot on earth where you will be unable to connect.
By the way if you are interested where you can find UMTS 2100Mhz or you are not sure whether it's supported in your country, you should definitely check out our Worldwide Network Bands distribution database.
Besides the network-based connectivity, Sony Ericsson T700 offers the usual Bluetooth v2.0 and USB options. Bluetooth comes with A2DP support allowing listening to music on a stereo wireless headset. Last, but not least, there is also the M2 card slot which might just turn out to be one of the quickest means of transferring data on some occasions.
The T700 supports local and remote synchronization of contacts and calendar events. Outlook and PC are covered, but you also get synchronization with remote servers. USB connectivity has four modes - one for file transfers and one for USB Internet - to put it simply, the second one is for using the phone as a modem. The third one is media transfer, which directly connects to the Windows media player, and gives full access to tracks placed on your phone, synchronization, play or sorting in playlists. The last one is for direct printing of images.