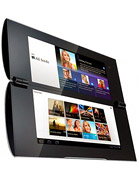 t
This one is certainly cool, but beware that there will be a black strip in between when you view web pages. There won't be much more software, though sony optimized some for the dual-screen, but its compatibility with other apps is terrible(I don't have this one, but I can imagine that). Last, the battery on this, as well as on the old Tablet S, is poor. BTW, you are gonna stuck in Honeycomb forever on this! No ICS update and definitely No JB update. You should think about the new Xperia Tablet S. I own it for less than week but I am highly impressed by its performance. Do think about this guys. Tablet P is a respectable device for its creativity, but the performance, you shall think again.
r
roufahmad5829@yahoo.
9FIk
i will collect money to buy this tablet as soon as possible.
M1
this tblet isssssssssssssssssssss so so so nice nd coooooooooooooool i like it
m
this tblet is so so so so coolllllllllllllll i like it vry muchhhhhhhhhhhhhh
y
worst tab ever
u cant decide which screen to look on
issue in after sales service
C50310
This is a great concept in a travel tablet. I hope that someone can improve on this device.
Total of 35 user reviews and opinions for Sony Tablet P.