Sony Xperia L now getting Android 4.2.2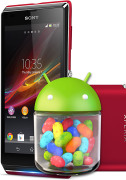 Sony has started seeding Android 4.2.2 Jelly Bean for the Xperia L smartphone. The update is available through the PC Companion and weighs about 700MB.
In addition to bringing your Android version to 4.2.2, the update packs several tweaks to the home-baked launcher. Those include a new homescreen, improved search and app sorting, updated media apps (Walkman, Album and Movies), easier Small Apps and two new camera features - Burst mode and Auto Scene Recognition.
The guys over XperiaGuide have built a rather detailed changelog. Here it is:
New homescreen UI, you can add up to 7 window panes now.
Add more widgets in homescreen and lockscreen.
Bug fixes and performance enhancements.
Superior auto mode (auto scene recognition) and Burst Mode feature added in Camera interface.
Better photo quality.
Updated Sony Media apps.
Small apps accessible from homescreen.
Improved search and app sorting now.
New Keyboard added.
Transparent dock at the bottom part on homescreen.
False memory notification bug is rectified.
Day Dream feature added in display settings.
So, if you own a Sony Xperia L, you should keep an eye on your notification area. The update is either available or just around the corner. Given, Sony's recent track record it shouldn't take more than a few weeks for the update to reach every Xperia L unit globally.
Thank you, Anurag, for the tip!
Reset your phone to eliminate the flickering of the screen! totally fixed the flickering on my screen. Initially, i thought it was caused by dropping my phone for about five time already. I thought i have to buy a new one but i read in a forum a...
I'm having the same problem. Countinous touch is not working properly. I mean if you swipe your finger on the screen. It miss detecting your finger in some areas. Then you have to press the screen harder. Like in resisitive touch. I bought this phone...
Hi I bought my. Sony xperia l today and it came with the 4.2 os. Problem I've got is that my external speaker. Does not work? I can talk on the phone. But unable to listen to music or watch a film? Is there a fix for this yet or am I better off tak...