Sony began rolling out Android 4.4.2 KitKat-based firmware update yesterday for the mid-range Xperia T2 Ultra. It brought the new OS version plus updated system and Sony exclusive apps. What we missed to notice the first time is the awesome function to move apps to the SD card.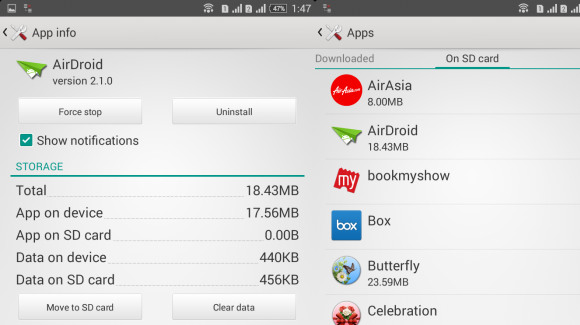 Once you go to application manager in your Settings menu and select an app, you'll notice the new Move to SD card option. There is even a new column that shows only the apps installed on your microSD card.
This particular feature is priceless for the mid and low-end phones, which come with very limited internal storage and system partition. It isn't available with the KitKat updates on the Xperia Z top lineup, but as it turns out Sony has different plans for the less-capable devices.
Currently Sony is still prepping the KitKat updates for Xperia M2 and Xperia E1 and we bet we'll see Move to SD card feature premiering on those with the new firmware as well. Maybe the KitKat-running Xperia smartphones will get it with the next update, too.
I bought a 16g memory card and cannot down load anything without having to Delete other app im really annoyed as i never had this trouble before my phone went in for repairs and they gave me another expiria phone
Hi Meridian, Did this work for you with all apps? For some apps, the storage option doesn't even exist in 'Permissions' (Citymapper for example), and for some apps where I can flick the storage permissions on, there isn't the option in 'Storage' to m...
I have a Sony M4 AQUA I Have a 8gb micro sim that is empty and it wont let me transfer sony APPS to SD card...what should i do i tried everything...