Sony Xperia S and SL to get new firmware update this month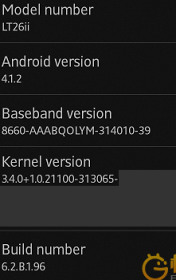 Recently leaked screenshots reveal Sony is working on a new firmware update for the Xperia S and Xperia SL. The new build is 6.20B.1.96 and is still based on Android 4.1.2 Jelly Bean.
There is no official details on release or changelog, but the update should fix the 1080p video recording and volume up bugs, and will probably bring other small improvements over performance and stability. The new firmware also allows you to launch Google Now with a tap and hold on the Home key.
The new updates are expected to roll out on the Sony Xperia S and Xperia SL by the end of this month.
The previous firmware updates for the Xperia S and Xperia SL that brought the two smartphones onto the Jelly Bean train took Sony forever, but the recent track record of the company shows it is capable of delivering firmware updates on time and we are really happy to see Sony has picked up its game.
my phone is getting low battery very fastly please give another ubtade for this please please please......
My Sony Xperia Acro S automaticly upgraded the software to the newest and after it installed it would not or can not be turned on,even if I charge it or connect it to a pc. Even the led light does not turn on. What should or can I do?? Please help me...