Sony Xperia XZ1 (G8341) goes through Geekbench, leaves Snapdragon 835 footprints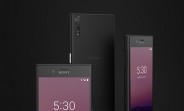 The Sony G8341 was spotted again, this time in Geekbench scores. The benchmark confirms the suspected Snapdragon 835 chipset and 4GB of RAM, though it only showed Android 7.1 Nougat.
Other leaks about this phone – supposedly the Xperia XZ1 – suggested it will run Android O instead. Considering that Google is still tinkering with the OS, we wouldn't jump to any conclusions yet.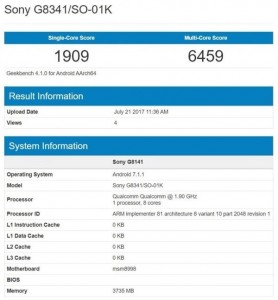 Sony G8341/SO-01K (Xperia XZ1) on Geekbench
Additional leaked specs include a 5.2" 1080p screen and a price tag of $860/€760. The phone has another code name, SO-01K (for Japan) and we'd like to point out that the Xperia XZ was the SO-1J, so this is clearly the successor.
By the way, there's another phone – G8441 – which is expected to be the Xperia XZ1 Compact with a 4.6" 720p screen as is the tradition. We'll keep our eyes peeled for these and other Xperias at the upcoming IFA.
Thanks for the tip, Anvin!
I don't think so, Sony have the simplicity rename their products because they are whole hearted to optimise the user experience and so on.. 2. The bezel is sturdy made, with the bezel the drop impact was reduced and you can also nipping the bez...
Xperia X get remarkable scores (88/100) in Dxomark test, you really don't know anything. You only believe some bloggers some blind text and some bias reviews.
Sony use quality materials even it is plastic (TPU), the amount is fully enough to ensure the durability! FYI the competitors made the smartphone even lighter weights than Sony, therefore the lighter weights already shown the lousy quality becau...