Sony Xperia phones to get their Android 6.0 Marshmallow fix in the next two months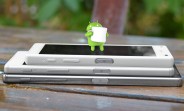 According to @Ricciolo1, a well-known leakster, Sony plans to update its Xperia Z5 lineup to Android 6.0 Marshmallow in January with older models to receive the same treatment shortly after.
Marshmallow offers a bunch of improvements, optimizations and features that'd be welcome on any smartphone. Battery life improvements and performance boosts are the most noticeable changes to the software.

Sony has been pretty good about keeping older devices in the update loop. It updated the Xperia Z (not the Z1) all the way to Lollipop 5.1.1, despite having an older Snapdragon S4 Pro processor.
As i said, an update has come yesterday, #marshmallow READY next month for #sony #z5 family..older #xperia models to follow shortly.. ;)

— Ricciolo (@Ricciolo1) December 2, 2015
Whether or not Sony will decide to update the Xperia Z this time around is unknown but it sure would be awesome to see Marshmallow running on a phone from early 2013.
Sony please include Z1 in the Marshmallow 6.0 list. The 5.1.1 that you have agreed with google to realise as an 'upgrade' and destroyed thousands of phone batteries, gives mostly the impression that sony and google are operating under the commands o...
Plz get my Xperia z1 into marshmallow
What the hell sony is dont till now no update for xperia z1. Are you playing with your caustomer. I spend rs. 26000/-simply wasting of money. I want to say direct one thing never play with u caustomer ok. We need marshmallow 6.0.1 as soon as posible ...