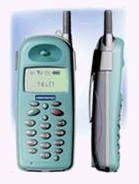 Anonymous, 15 Apr 2006looks strange and maybe even scary!but has good battery life
is that have any bluetooth or something MP3,MP4???.....i will buy that 1.00$...just kidding...nice butold model of doomed!!!
yeh i agree wif dat zara person i think dat fone is sooo gay lol ... ewwwww!!!
nice?!you call that nice?!?!that phone is very very stupid and ugly too!!! :d
Total of 10 user reviews and opinions for Telit Estremo.