The iPhone 5c and 5s have bigger batteries than the iPhone 5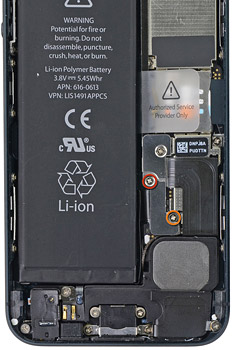 Apple promised improved battery life for its new iPhone 5s and 5c, but other than endurance times for a few use cases, the company gave little info on the battery itself. Luckily, it's FCC's job to certify such aspects of a mobile device so now we have the actual battery capacity.
The iPhone 5, 5s and 5c batteries all work at 3.8V, but differ in battery size. The iPhone 5 had a 5.45Wh battery which works out to 1,440mAh. The iPhone 5c has a bigger, 5.73Wh battery or 1,507mAh and the iPhone 5s has the biggest battery of the three at 5.96Wh or 1,570mAh.
| | | | |
| --- | --- | --- | --- |
| | V | Wh | mAh |
| iPhone 5 | 3.8 | 5.45 | 1,440 |
| iPhone 5c | 3.8 | 5.73 | 1,507 |
| iPhone 5s | 3.8 | 5.96 | 1,570 |
It's interesting that the iPhone 5s battery grew more, even though the phone is as thin as the iPhone 5, while the 5c is thicker.
Source 1 • Source 2 | Via | iPhone 5 battery photo courtesy of iFixit
I'd go with the so called better Samsung gs4 if Samsung used a professional contact management system like apple does by working with MS Outlook instead of google contacts. Sow me one company in the world that uses google over outlook.
Perhaps the S4 is better in some things but not all things. And who says bigger and bigger screens are "improvements?" At this rate we'll be walking around holding tablet sized phones to the sides of our heads! Think I am wrong? As Samsung ...
Of course they died, no Steve Jobs, no Apple, and thats it, Samsung is better anyway,HTC and Sony, Apple has just brand, design, and IOS, but, for our days, very poor functionality, so, if your love this bitten apple, buy it, because i dont see any r...