A quad-core LTE-enabled Galaxy S III with 2GB RAM to hit Korea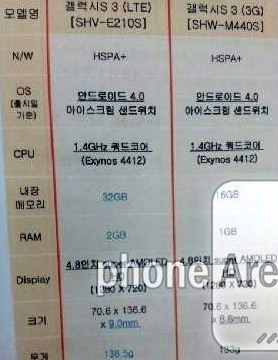 After the Galaxy S III was announced, a lot of people were displeased that it fails to provide a RAM upgrade over the S II. You see 1GB of RAM is more than enough for just about every use case, but more is always better when talking memory.
Later Samsung announced the US Samsung Galaxy S III version, which does pack 2 gigs of RAM, but drops the quad-core CPU. Now though, we learn of a new S III edition, which combines the best of both world.
The model number of the new Samsung Galaxy S III units will be SHV-E210S, but sadly it's only going to be available in Korea. We suspect that this version is an insurance against the LG Optimus LTE2. LG was keen to brag about its new smartphone the day after the Galaxy S III announcement, focusing marketing attention on its 2GB of RAM. The Optimus LTE2 is also a Korea-only device.
The rest of the specs of the SHV-E210S Galaxy S III are identical to the international model – a quad-core Exynos 4412 chipset (with additional third-party LTE chip), a 4.8-inch Super AMOLED HD screen, an 8MP snapper and 32GB of internal storage (there is no 16GB version this time). The phone is 0.4mm thicker than the 3G-only version.
The Galaxy S III LTE will launch in Korea this July, but its price tag is yet unconfirmed. We guess it won't go global though.
Can anybody give me the information on does it support 2G network ? & EDGE connection support ?
My SII came with Vodafone apps built-in and it frequently closes apps for memory saving. I can't remove them without rooting it, but i know they are using RAM and bandwidth with no benefit to me! I have to assume that 2GB RAM would reduce the pr...
The model number SHV-210S is wrong. The 2GB RAM, 64GB FLASH version SHV-210S earlier release embedds a Qualcomm dual core Krait (MSM8960) integrating multimode 3G DC-HSPA 42 Mbps DL baseband with with 850 MHz LTE band five for SKT. What is the...