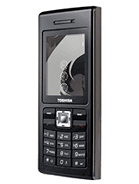 PROS
- looks very nice, slender
- shows radio stations (rds or something)
- camera qaulity reasonable
- interface very simple
- very light
- good backlight intensity
- ok resolution

CONS
- poor reception in Canada, in HK ok
- quiet ring tones
- low handset volume
- music player not too exciting
- terrible headset supplied, cannot use your own unless bluetooth



I like the fm radio. Still looking for a car battery charger for the TS32.
Total of 10 user reviews and opinions for Toshiba TS32.