UPDATE: Galaxy S7 edge: Snapdragon 820 VS Exynos 8890 benchmark results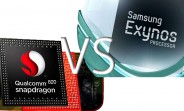 We've finally been able to get our hands on a Snapdragon variant of the Samsung Galaxy S7 edge and our benchmark results show how these two variants stand up to today's other competitors.
Keep in mind that every benchmark is created differently and while either of these setups yield somewhat similar results, there are areas where one might be better at graphics while the other is better at raw calculations.
We've already updated our Galaxy S7 edge review with the second set of benchmark scores for your comparison pleasure.
Once we finish performing our battery tests, we are going to update the battery life section with the Snapdragon results as well. Will the new and efficient Snapdragon 820 variant be able to outlast the Exynos version? We'll see!
it's seems u have never heard of something caller vr headsets.. n who the he'll said the pixels in amoled displays burn?? wtf seriously I have been using note 3 it's been more than 2 years.. n there is no shirt as u say...
Exynos is far better than snapdragon, you do get better performance and battery life.
He is right z5 screen is much better try to test s7 vs z5(i dont have x series)from sunlight you will see the difference sony ips lcd have different outcome from other brand that use ips lcd its not about nits its about how day built and material the...