UPDATE: Galaxy S7 edge: Snapdragon 820 VS Exynos 8890 benchmark results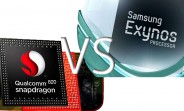 We've finally been able to get our hands on a Snapdragon variant of the Samsung Galaxy S7 edge and our benchmark results show how these two variants stand up to today's other competitors.
Keep in mind that every benchmark is created differently and while either of these setups yield somewhat similar results, there are areas where one might be better at graphics while the other is better at raw calculations.
We've already updated our Galaxy S7 edge review with the second set of benchmark scores for your comparison pleasure.
Once we finish performing our battery tests, we are going to update the battery life section with the Snapdragon results as well. Will the new and efficient Snapdragon 820 variant be able to outlast the Exynos version? We'll see!
There's no evidence that android games makes use of all cores infact no android apps at the time of writing is coded to take advantage of all 8 cores. Most apps don't even need it. Even the latest android games runs fine on a quadcore, provided its b...
Seems like the exynos is faster and loads games faster and mulitasks better https://www.youtube.com/watch?v=233f0ewFWGk&­src_vid=qtBHW5Nn2zI&annotation_id=5673f78c-0­000-20e8-a00a-94eb2c08dd58&feature=iv
Yeah that is true, and I have limited both the resolution and framerate through the game launch centre on my S7. But it kind of defeats the purpose of having the qhd screen in the first place a little......