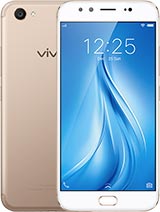 R633210
karlhaikal, 18 Jan 2017V3 max SD 652 most better from V5plus SD625 ..Totally disappointed. It seems Vivo from last year is following the same path of releasing the least expensive and low performance variant of their X-series lineup as V-Series flagships on international markets. Take the new Vivo V5Plus as an example. Instead of upgrading the specs over its predecessor Vivo V3Max it seems V5Plus is a downgrade from performance side. Last quarter Vivo changed its slogan from "HiFi & Smart" to "Camera & Music". Now their focus is entirely shifted towards camera, front selfie camera to be specific. I don't like this shift as an audio aficionado. Recently they launched three phones in China namely:

a) Vivo Xplay 6 (flagship phone with Snapdragon 821, 6 GB RAM, 128 GB internal memory, high end ESS Sabre DACs + Headphone amplifiers for audio)
b) Vivo X9 Plus (higher midrange phone with Snapdragon 653, 6 GB RAM, 64/ 128 GB internal memory, high end ESS Sabre DACs + Headphone amplifiers for audio)
c) Vivo X9 (midrange phone with Snapdragon 625, 4 GB RAM, 64 GB internal memory, passable AKM audio chips with OK sound quality)

Now Vivo is re-launching their X9 as Vivo V5Plus internationally. Comparing with my Vivo V3Max below I find the advantages, disadvantages of V5Plus.

Advantages:
1) V5Plus have more internal memory of 64 GB. V3Max had 32 GB.
2) Dual front selfie camera for selfie obsessed. I have no use of this freaky new feature as V3Max was already capable of some decent selfies. I would have loved if they provided equal attention to the main rear camera where it really matters. It seems more of a marketing move to me.
3) V5Plus camera sensors have more megapixels than V3Max. Unfortunately more MPs do not mean better picture quality. Under broad daylight the main 20 MP selfie shooter plus a 8 MP secondary sensor may take some decent shots with bokeh effects but under low lighting conditions it may suffer as the pixel size is much smaller now in the already crammed size of phone camera sensor. This is why real flagships from Samsung, LG & Apple do not run after megapixels. But MPs are good for marketing purposes.
4) Corning Gorilla Glass 5 display protection in V5 Plus. Much tougher display protection over V3Max with Gorilla Glass 3.
5) V5Plus ships with Android Marshmallow with Funtouch 3.0 overlay on top. V3Max comes with Android Lollipop with Funtouch 2.5. But this Funtouch overlay makes user experience very consistent over multiple Vivo devices and seldom utilizes any new feature found in new Android releases. So from end user perspective there will be no change in user experience be it V3Max or V5Plus both having same number of features.

Disadvantages:
1) While V3Max had more expensive and better performance oriented Snapdragon 652 SoC, V5Plus does with a less performance oriented Snapdragon 625. Definitely a downgrade from performance aspect. I expected the natural upgrade to Snapdragon 653 in V5Plus. With same battery capacity on both devices and extremely efficient but ultimately weaker SD 625 SoC, V5Plus will definitely provide better battery backup. RAM remains same at 4 GB on both devices but being a power user I definitely give edge to V3Max.

Identical:
1) Both have FullHD, 5.5 inch, IPS LCD display.
2) Both uses fast charging technology, so battery should get fully charged in 1.5 hours flat.
3) Near identical battery size of 3000 mAh.
4) Both are sturdy metal uni-body designed phones.
5) Both uses AKM audio chips that gives good audio performance through headphones but nothing exceptional in terms of audio quality.
6) Both contains standard 3.5mm audio jacks to plug any headphone of your choice.
7) Vivo V3Max supports 4G LTE out of the box. I believe V5Plus will also do the same, both being compatible with Reliance JIO connections.

Audio:
1) V3Max came with AKM AK4375 audio chip, while V5Plus ships with AKM AK4376. Other that the change in code number there are almost no differences between the two audio chips in audio performance terms. If you are using an Apple iPhone 6, you will find both V3Max and V5Plus great sounding over quality earphones. But being a user of Vivo X5Max or Lenovo Vibe X3 encapsulating high-end ESS Sabre DACs & Texas Instruments Headphone amplifiers the V3Max & V5Plus sound quality is a big letdown for me. Make no mistake if you are after Hi-Fi audio then X5Max or Vibe X3 will only suffice. But for casual listeners using lossy audio sources like MP3 both V3Max & V5Plus are good.
2) The headphone driving capability of V3Max or V5Plus is much weaker than either Vivo X5Max or Lenovo Vibe X3. A real audiophile centric smartphone like X5Max will have enough driving power to drive high impedance audiophile grade earphones and some over-the ear headphones. Objectively speaking under HiFi mode X5Max is measured to reach -1.4 dB while V5Plus will only cough up -8.5 dB. This means V5Plus is designed keeping in mind that users will ONLY use cheap low impedance earphones while X5Max can drive any audiophile grade earphones you through at it.

Verdict:
Everything will depend on pricing. Currently Vivo V3Max retails for INR 19K in India, so with less performance in hand V5Plus should not cost more than V3Max. But I am pretty certain Vivo will launch it at a sky high price as always, maybe around absurd INR 25K ~ 27K price in India and then nobody will buy it. Over a course of 4 to 5 monthsÂ' time V5Plus will be available at the same price of V3Max. I will never buy this V5Plus for just one reason: It is not an upgrade over V3Max, to me it is a downgrade with less performance in hand. More over at around INR 17K you will get Lenovo Vibe P2 with same specs of V5Plus and additionally a monstrous 5100 mAh battery. You may argue Motorola Moto Z Play with same specs of V5Plus retails for INR 25K, but then there is no denying of the fact the Moto will definitely get two successive Android version upgrades in near future whereas V5Plus will forever be stuck to Android Marshmallow. And lastly the GOD Almighty Xiaomi Redmi Note 4 with same specs of V5Plus is available at just INR 13K (4 GB version) with stonking 4100 mAh battery. I love to be an Indian with so many options.
M103
Anonymous, 17 Jan 2017Can anyone suggest which Snapdragon is the best :- Snapdragon 625 or Snapdragon 652 ?The snapdragon 625 is built on 14nm architecture which is the best and the most efficient architecture. So if your priorities are:
Battery=SD625
Power=SD652
k4
giga2017, 18 Jan 2017SD652 is far more better than SD625 in term of CPU/GPU's performance.Yes its true
k4
V3 max SD 652 most better from V5plus SD625 ..
g2
Anonymous, 17 Jan 2017Can anyone suggest which Snapdragon is the best :- Snapdragon 625 or Snapdragon 652 ?SD652 is far more better than SD625 in term of CPU/GPU's performance.
?
Can anyone suggest which Snapdragon is the best :- Snapdragon 625 or Snapdragon 652 ?
T29027
Vendor copying their design each others, even looks boring #BeTheDifference
r
A 450 euros device in 2017 with a micro usb port instead of usb-c....pathetic.
S
Snapdragon 625 is a let down I mean even Umi Z has Helio X27 the previous one has snapdragon 650 make it Snapdragon 652 at least
M
lee, 16 Jan 2017Gray colour mean in front black colour and in rear gray colour?The black one like iPhone 6
Total of 415 user reviews and opinions for vivo V5 Plus.