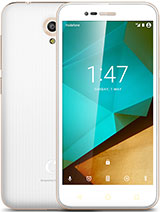 O
You would pretty silly to upgrade your prime 6 for this. Comedians.....
212
36
Yep, Vodafone have made a mistake.
The obvious downgrade in chipset (SD410 down to SD210) is the biggest hit but they have also made it bigger but kept the screen the same. So it's now slower and less ergonomical. But it's ok because they've given us, wait for it...40mah of extra battery!
I don't think that's an argument it can win.
'Yes, we have given you a slower chipset, so much so that anything above Temple Run 2 will lag, but we've given you more battery. Unfortunately due to the outdated technology of the A7 cores there's no real efficiency bonuses so the 40mah extra will - perhaps - add another 5 minutes. On standby.'
I do hope they get it right and upgrade the Ultra. I liked that phone and got very close to buying one.
A
What an opportunity to improve on the 6, but Vodafone are giving us a lesser chip? Vodafone, tell us this is a mistake and they come with the Ultra's MSM8939. Or at least the 410 same as the 6. Not less???!!!
?
Lmfao , the smart prime 6 had a sd 410 while this has 210 , is this a joke ?
Total of 46 user reviews and opinions for Vodafone Smart prime 7.