Update: Sony has confirmed that it has nothing to do with the image and that the it isn't the real deal. Move along guys, nothing to see here.
We have already heard about the Xperia Z1, Xperia Z Ultra and Xperia Z getting the Android 4.3 update in the near future. But there is a whole bunch of other Sony phones whose owners must be anxious as to when their phones will be getting the update, if at all.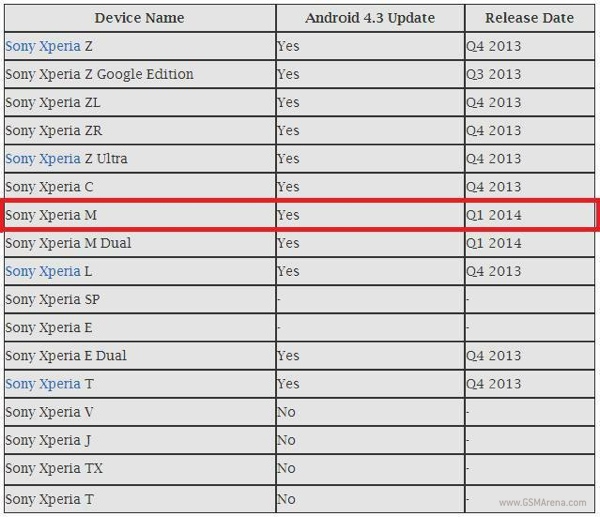 According to this leaked image that we were sent, it seems that it won't be long for some of the Xperia handsets to get the update. Other than the ones we already know, the Xperia ZL, ZR, C, L, E dual and T would be getting the update this quarter. Meanwhile, the M and M dual would get it in the first quarter next year.
The Xperia V, J, TX and T meanwhile won't be getting the update at all and no information is available on the updates for the SP and E.
One interesting thing the document mentions is the Xperia Z Google Edition. We have heard about this device in the past but it never really materialized. It's the only device mentioned to get the update in Q3, which sounds about right as had it been a real device it would have gotten the update around that time along with the Nexus and other Google Play edition devices.
The authenticity of this image is not yet confirmed so take the information with a pinch of salt.
Thanks Mustansir, for sending this in.
Y Xperia e is not getting updated of 4.1 to4.3 plz tell
I use sony xperia e dual and i want know that will xperia e dual receive update to 4.3?Is this news officially created by sony co-operation? please anybody tell me about this information..
Will sony xperia e dual receive update? is this news fake or real?