After crowdsourcing the name of their upcoming smartphone, and settling on YUPHORIA, YU is now asking its fans to design a UI set for the phone.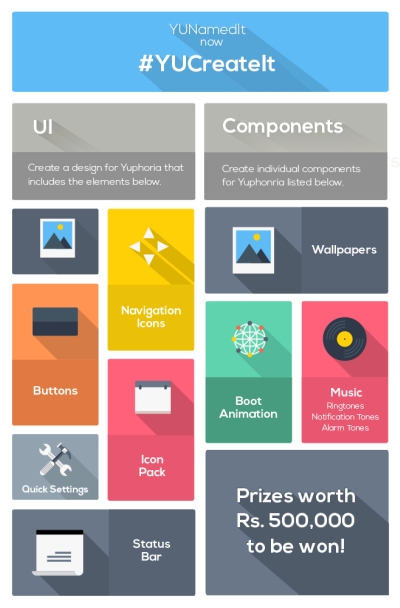 Participants in the challenge can either design the entire set, including icons, controls, status bar, navigation bar, and the wallpaper, or individual elements, including wallpaper, boot animation, or ringtones.
Those who choose to design the entire set can stand to win up to Rs. 100,000 ($1570) in cash prize and individual element creators can win up to Rs. 10,000 ($157) in Amazon credits.
The closing date for the challenge is May 10, so make sure you send your entries before then. Check the link below for further instructions.
5.2(inch) full hd screen( 2.5 D) No hybrid simslot Fingerprint 13 mp rear camera with 1.7 aperture with dual flash 5 mp front camera with 2.0 aperture with flash Battery 3500 mah Snapdragon processor
Screen=5.7 to 6 inch,android latest version,camera=rear(16-20)selfish(13) with front flash screen full HD or 2k display,ppi more than 450,battery (4000-5000mah),ram-4gb,rom-32gb,no hybrid slot,removable battery,50% fast charging,no heating issue,good...
5.5inch Full HD display with 2.5d curved glass+sd 626+4gb ram+13.13 dual rear camera +16mp selfie camera with moonlight flash +3200mAH battery with Qualcomm quick charge 3.0.