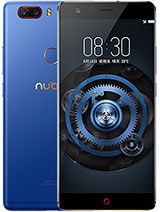 r
The specs of this lite of phone is very much encouraging and and I like it. The price is ok for the specs. Nice phone.
C83149
Specs are good price even better great phone i would reccomend
?
Is this available outside china. I understand that nubia phones are usually exclusive for the chinese market.
D202
+ SD Card slot
+ 3.5mm Audio jack

when the lite version is more acceptable than the regular version
S215
Everything that the normal one is but w/ a audio port. Sounds good to me!
Total of 7 user reviews and opinions for ZTE nubia Z17 lite.