Android's latest version Nougat has finally passed the 1% mark in the Google OS distribution chart. 7.0 and 7.1 combined now represent 1.2% of the total number of devices running Android - more than Froyo and Gingerbread each. Hurrah.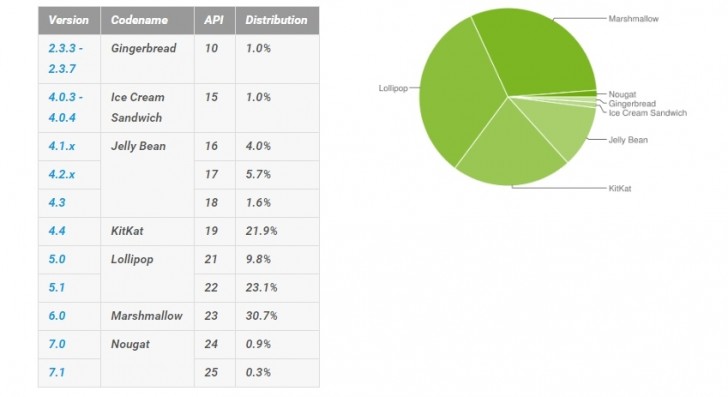 Meanwhile, Lollipop remains the OS version most droids have installed, down half a percentage point since last month to 32.7%. Marshmallow is a close second with 30.7% of the market.
Compare that to the Apple figures, where the latest iOS 10 powers 76% of devices, and a mere 6% of iPads and iPhones are more than one version behind.
C
2. Android is not licensed as open source. AOSP is licensed as open source. To be allowed to call your phone an Android phone you have to: 1. Place the google-services not more than one interaction away from what the user sees when he starts the ph...
?
" Everyone is asking for latest software and don't even care that there are not much difference" I have been interested in upgrading. However, Nougat does offer slit screen and the ability to run two apps side by side. Something which has been m...
D
1. Microsoft put basic drivers, but most OEMs have their own drivers. Try reformatting your PC's hard drive and reinstall Windows from scratch. You will end up having to install some drivers from the manufacturers. Considering even the anniversary up...