12MP Samsung W880 storms South Korea with 3x optical zoom and 720p HD video

It's not every day we write about CDMA phones, but monsters like W880 are something we just can't miss. It's the world's first 12 megapixel cameraphone with 3x optical zoom, xenon flash and HD video recording at 30 frames. But even with the GSM capabilities, what is meant for South Korea stays in South Korea.
Our Samsung W880 AMOLED 12M preview is already up and running. Check it out here.
You probably remember the Samsung M8920, which leaked several months ago. While it's still in Rumorlandia, Samsung have just announced its Korean counterpart - the SCH-W880 or Anycall AMOLED 12M as its mundane name goes. Yes, it's a silly name, we know, but South Korea is a market that's entirely different from Europe or the Americas.
The W880 AMOLED 12M is the world's first 12 megapixel cameraphone with 3x optical zoom. Despite being mainly a CDMA mobile phone, the W880 will sport tri-band GSM connectivity and 3G connectivity (WCDMA 2100). But don't just open champagne yet as the W880 will remain exclusive for the South Korean market and the GSM radio will be used for roaming purposes only.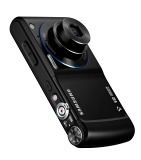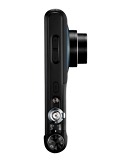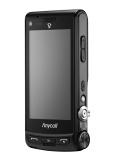 Samsung SCH-W880 AMOLED 12M official photos
The Anycall (Samsung) W880 is not a smartphone, but boasts a 3.3-inch WVGA AMOLED capacitive touchscreen, 4GB internal memory, 12 megapixel camera with 3x optical zoom and variable aperture, xenon and power LED flashes, 720p@30fps video recording, T-DMB TV tuner, Bluetooth, microSD card slot, microUSB connectivity and 1100mAh Li-Ion battery.
We know for sure that the long-awaited European version (M8920) will swap the T-DMB TV tuner for the more practical Wi-Fi and GPS connectivity. Check out that shot for reference.
Another nice surprise we have for you today, is that we managed to grab a pre-release sample of the S. Korean W880 and we are seriously impressed by its imaging prowess.





Samsung SCH-W880 AMOLED 12M in our office
As you will see the W880 AMOLED 12M is very impressive, capable and promising cameraphone, which really deserves a lot of attention. Here are three sample photos and a sample video to enjoy, while waiting for our live preview article later on today.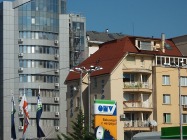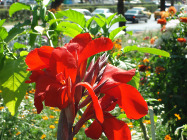 Samsung SCH-W880 AMOLED 12M camera samples - normal, zoom, macro
Having 720p HD video recording at 30fps on a mobile phone is a world's first as well. After all, the Omnia HD went only as high as 24 fps. The following sample will show you the excellent color rendering and the impressive detail the W880 provides even at this early stage.
The Samsung SCH-W880 AMOLED 12M will be sold only in Korea starting in early October, but you can be sure the worldwide GSM version is cooking in the Samsung labs and we should see it in the beginning of 2010.
Our Samsung W880 AMOLED 12M preview is already up and running. Check it out here.
i have this phone.but now camera not working in this phone.what i am doing?please reply
i have always used sony ericsson but no other phones.....soy ericssons are great phones and i have never encountered a problem....i love this samsung phone and i would love to own it though i wonder if it will maintance the same quality like the eric...
can i install external softwares on samsung OS? like ringomax mobile dialer etc.? (*.sis format)