HTC 2007 lineup Some exciting new HTC handsets have become the word of mouth these days as rumors of the future HTC 2007 lineup have spread across the Net. Those include five new PocketPCs and 4 new smartphones...
Some exciting new HTC models have become the word of mouth these days as rumors of the future HTC 2007 lineup have spread across the Net. Those include five new PocketPCs and 4 new smartphones, presumably all powered by Windows Mobile 2005. Beside those there is also going to be one super communicator which doesn't quite fit in the current portfolio categories of the manufacturer.
For now most of the devices are known only by their platform name. It must be also noted that all these mobiles are currently not backed up by any official statement by HTC and currently they are based solely on an information leak published first by HPC.ru. The expected Pocket PCs would include the HTC Love (HTC P3350), the HTC Kaiser, the HTC Elf, the HTC Panda, and the HTC Omni. The smartphones would be the HTC Cavalier (HTC S650), the HTC Vox (HTC S710), the HTC Wings, and a clamshell with a platform that still remains a mystery.
Some real-life previews of the new HTC communicator that would be the flagship of this new lineup have already circulated the mobile-oriented websites, so the new device called HTC Athena or HTC X7500 is almost sure to be announced soon by the manufacturer. The device is based on the Windows Mobile 2005 Pocket PC edition and comes with a hefty size and a weight of 350 g. It would be powered by an Intel XScale 624 MHz processor and would have a large 5" TFT display with VGA resolution of 640x480 pixels. The device would also be equipped with a detachable hardware QWERTY keyboard and would have a hard disc with a storage capacity of 8GB. As for connectivity options, there's no doubt that they would be on par with the device multi-functionality. It is supposed that they would include quad-band GSM/GPRS/EDGE, UMTS, HSDPA, Wi-Fi, GPS and Bluetooth 2.0. The HTC X7500 (Athena) is supposed to appear in the first quarter 2007 and its price would be about $1700.
The HTC Love or HTC P3350 is the first of the Pocket PC to come out on the market by HTC. It would resemble the current HTC P3300 Artemis a lot but would lack GPS and would be equipped with dedicated music keys since it's the first music-oriented device of the Taiwanese manufacturer. Besides that it would be equipped with GSM/GPRS/EDGE support, Bluetooth and Wi-Fi, FM radio and a 2 megapixel camera.
The HTC Kaiser is a somewhat enhanced version of the current best-selling HTC TyTN Hermes and HTC 4350 Herald. Its main selling point would be the full range connectivity options, UMTS support, powerful 400Mhz processor plus the integrated GPS receiver. The HTC Kaiser is expected in spring this year.
The HTC Elf would not be so rich in equipment because it would follow a more fashionable, slimmer line of design. It would have a smaller 2.8" TFT display, a 200MHz processor and no Wi-Fi. Despite its exquisite design, it would be more of a budget-oriented PDA phone.
There is another couple or rumored PocketPCs designated with the names HTC Panda and HTC Omni. Unfortunately, there aren't any pictures of both yet. The Panda would have a huge TFT touchscreen with a diagonal of 3.5", it would boast almost all connectivity features except for 3G and would have a 400 MHz processor. The Omni seems to be the long-awaited continuation of the HTC Universal with a VGA resolution display with a diagonal of 3.6", full connectivity features plus 3G and an adequate processor.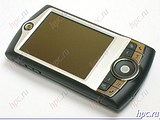 HTC Love (HTC P3350) • HTC Kaiser • HTC Elf
The new HTC Cavalier or HTC S650 smartphone is going to be an updated version of the current HTC S620 with a 400MHz processor and UMTS/HSDPA support. Its design would include a side navigation key called JOGGR.
Another new smartphone is the HTC Vox or HTC S710 which would feature a wide range of connectivity options including Wi-Fi and possibly UMTS. The most interesting thing about it is that besides the regular alphanumeric keypad wit would also be equipped with a full hardware QWERTY keyboard.
The other expected smartphone, dubbed as HTC Wings, would also build on this dual-keyboard design but it would have a more powerful processor, UMTS support, and an integrated GPS receiver. Basically the only thing that would separate it from being a fully-fledged PocketPC is the lack of toucscreen capability which is not a necessary bad thing since many users prefer to do without a stylus.
And the last representative of the smartphone class would be a fashionable clamshell with two displays, Wi-Fi support and an integrated GPS receiver. Unfortunately, its platform is still unknown.





HTC Cavalier (HTC S650) • HTC Vox (HTC S710) • HTC Wings • Unknown HTC clamshell
In case you got lost among all those platform names do not hesitate to drop by our GSMArena table guide of current HTC platforms and their implementations by different manufacturers.
All photos are courtesy of HPC.ru.
M
htc s710 is a good mobile to use but the keypad for the phone is weak.poor casing.leather-n-leather@ananzi.co.za
?
jeez! Those HTC people don't let up do they? They look just super!
?
Haha, $1700 for the HTC Athena??? How about the Sony Vaio UX90S? Similar price and much MUCH better in every discipline.
ADVERTISEMENTS