After all major manufacturers posted their Q4 financial reports it's time to draw the line and see what has changed over the past year. Apple was the biggest winner, surpassing several companies and slipping comfortably in the fifth global position in terms of units shipped.
Quarterly results, Q4 2010
That's a great feat considering that the Cupertino-based company only sells high-end smartphones and it only keeps two models on sale in any single moment. What's even more impressive is the Apple performance in Q4 2010 when it comfortably outpaced BlackBerry in the run for the global 4th spot.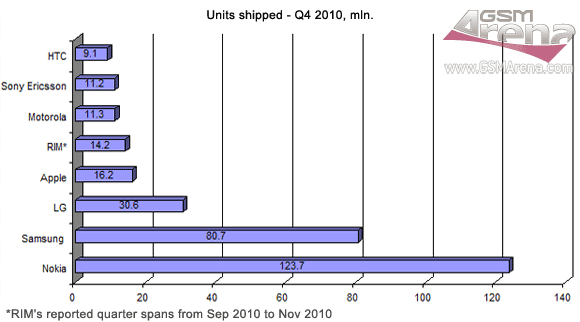 There's an important note we have to make here though. RIM doesn't follow the calendar quarters for reporting like all the other mobile manufacturers. The only official info we have about their sales is their last earnings report, which encompasses the period of 27 August till 27 November 2010. So essentially the Q4 results of the Canadian company do not include the Dec 2010 sales.
Yearly results, 2010
There are no changes in the top three as far as yearly global market positions are concerned, though Nokia lost a large chunk of its lead. Another year or two like that might see it relegated to the second spot.
LG had a rough year and even though they are still in the third global place, they couldn't quite maintain Samsung's pace so gap is widening.
On the contrary, it's a close battle between Apple and RIM. Sony Ericsson secured a global sixth position over Motorola, but only by a whisker. And HTC is rapidly closing the gap on Motorola so we'll certainly see some re-shuffling among these next year.
Again, when you read the table below, have in mind that RIM's 2010 yearly results only include the sales data between 27 Nov 2009 and 27 Nov 2010 rather than the full calendar 2010.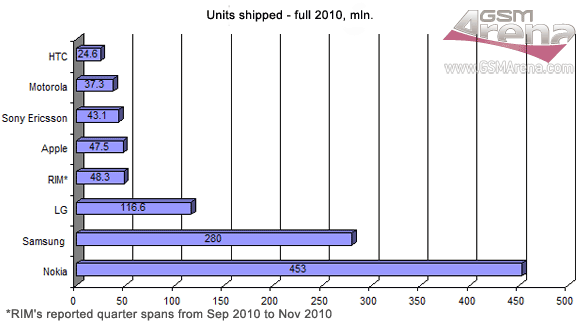 2011 will probably see the manufacturers of Android and WP7 devices (Samsung, LG, Motorola, Sony Ericsson and HTC) gain more market share as the iOS growth rate will struggle to match those of the two newer platforms. Still Apple will most probably enjoy solid increase in sales for at least another year, while Nokia will probably continue its downwards slide.
Nokia will most probably manage to retain its first place next year, but they really need to up their game or we might see a new global market leader come January 2012. That MeeGo smartphone that everyone's so eager to see is probably their best chance of returning to the winning ways.
P
Nokia N8 is coming with 12MP camera.... just because it'll lose the competition in the race of Androids! After using Sony Ericsson Xperia Arc I'll advise all to buy it... it's just favulous... Samsung Galaxy S 2 is too a good phone... but i prefer Xp...
?
i dont get it on another article it says ZTE is 4th now in total mobilehpone market. but here zte is nowhere to be seen?
R
Numbers conflict with this previous article. http://www.gsmarena.com/zte_becomes_worlds_4th_largest_manufacturer_android_is_top_os-news-2270.php
ADVERTISEMENTS