Best Buy looks like itís trying to get rid of its Moto X inventory. It is offering the 2nd generation Moto X 16GB in Black for $242.99 before sales tax. This price should last until Saturday, as any changes to Best Buyís pricing are usually made overnight for Sunday.
Good luck finding any in-store though, as the Ďstore pick upí option is not available through the website. You may be able to find one if you call your local store. Though, you are more likely to not find one.

B&H Photography also has the 2nd generation Moto G on its website going for $99.99 before taxes and includes a free Belkin Charger Dock. B&Hís website even lets you choose between the worldwide variant and the US variant which only differ in cellular bands.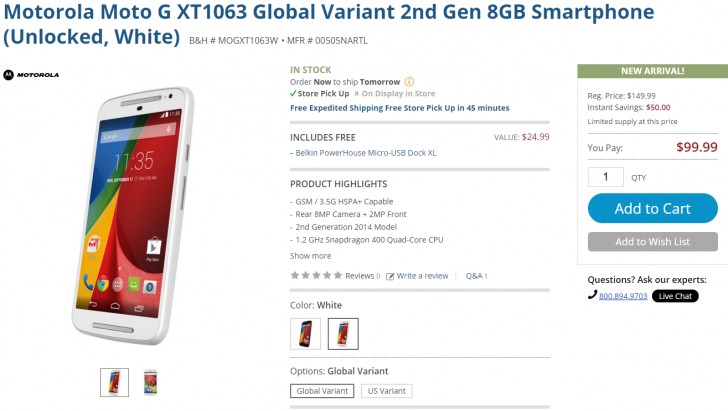 The Moto X 2nd gen. features a 5.2 inch AMOLED 1080p screen with a Snapdragon 801 processor. It has a 2300 mAh battery, 13 MP rear-facing camera, and Motorolaís own Moto Display which pulsates notifications on the actual screen.
Note that the Moto X does not have a microSD card slot, so youíll be stuck with only 16GB of internal storage. Motorola only decided to include a microSD card on the 3rd generation of its ĎXí line.
The Moto G 2nd gen. features a 5 inch 720p LCD screen and an 8MP rear camera. Motorolaís Moto G was among the best performing smartphones in sales numbers around the globe. Motorola made some great hardware and hope that Lenovo has plans to keep it that way.
V
What does it miss then? I compared Mptp X 2nd and Nexus 6P and both have similar Android features.
?
Stock android sucks on the Moto as it is missing key features. Unlock it, root it and install CyanogenMod improves it greatly.
?
Lenovo is getting rid of Motorola. Probably clearing old stock now. Don't fool yourself; this will never get updated.