According to Google's latest report based on the number of Android devices that have accessed Android Market within a 14-day period till August 1, 24.3 percent of Android users are now running on Gingerbread-based devices. Froyo, however, continues to have the majority of the stake, with 55.9 percent of the total Android users. Although the adoption to Gingerbread by OEMs happened a lot faster compared to the previous versions it seems it's not fast enough as a lot of users are still stuck on the older version.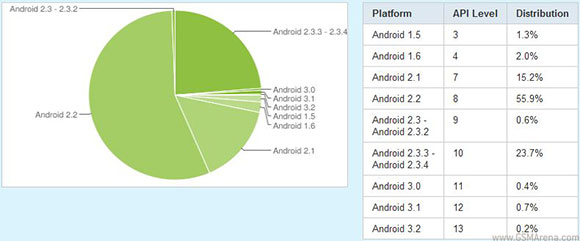 Looking at the historical distribution from February 2011 to August 2011, we can see that Gingerbread user base only started picking up around May 2011. However, the Froyo user base remains almost identical to what it was in February, it's just that the usage of the older versions such as 2.1 has dropped significantly.

Meanwhile, Android Honeycomb-based devices aren't doing so well. With only 1.3 percent of the total Android users who access the Market there clearly aren't enough Android Honeycomb-based tablets out there, despite being in existence for almost six months now.

Another interesting statistic is the number of Android users with a specific display size/pixel density. According to the data collected in a 7-day period ending August 1, of users who accessed the Android Market, 74.5 percent of them are using a device with Normal / hdpi display. According to Google, Normal can be a display ranging from 3.0 – 5.0-inch in size and hdpi is anywhere between 180 to 280 dpi. This is not unexpected due to the popularity of phones with around 4-inch displays and 800 x 480 resolution. The second highest user base is for Normal / mdpi, which is 16.9 percent. mdpi is between 130 to 180 dpi, which will mostly include phones with around 3.2 - 3.5-inch display sizes with HVGA resolution. Once again we can see devices with xlarge displays (7 – 10-inch) are only 1.2 percent.
M
I want to root it to Kitkat
S
Hi All, Yesturday, I installed 2.3.7 version as guided in the website. But, now I am unable to connect my phone with Samsung KIES. I use Samsung GT-I5500L mobile. Can anyone help me in this regards? Thanks in advance Shankar
a
i want my x8 upgrade to 2.3
ADVERTISEMENTS