Gold is everywhere these days (in the mobile world that is). We're starting to see more and more 'gold' versions of smartphones, the latest being Microsoft's Lumia 930 and Lumia 830, which were just announced a couple of days ago. But those are still nothing more than new colors - they aren't using actual gold.
The Chinese company NavJack, however, is now offering limited edition gold plated versions of the iPhone 6 and iPhone 6 Plus. And this is real, 24K gold we're talking about here.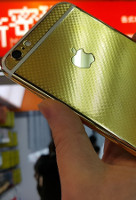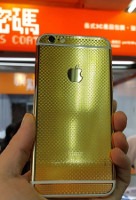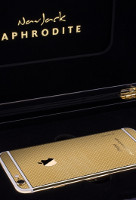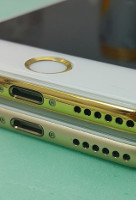 24K gold plated iPhone 6 and iPhone 6 Plus
As you can see from the images above (click the thumbnails for full-size pictures), the gold plated iPhones even feature a carbon fiber-like finish on the back, for an added sense of exclusivity.
NavJack is also adding a layer of Gorilla Glass 3 to the front panel of the iPhones, for whatever reason. We assume that's meant to make the screen side more drop and scratch resistant.
Obviously the hardware innards of each iPhone are left unchanged by the transformation process. On the other hand, the gold plated iPhones do get a special box, which looks nothing like Apple's traditional packaging.
Pricing for these 24K gold plated iPhone 6 and iPhone 6 Plus models hasn't been announced yet, unfortunately. That said, they clearly will be anything but cheap. And we're guessing that the people who are in the target market for such devices won't care about the exact price levels - after all, in a sea of iPhones, it's very important that yours stands out somehow. And gold may just have that effect.
R
A bit too busy.......lol
K
that is really great but must tressure it with our life
ADVERTISEMENTS