Microsoft may have unveiled a couple of golden-colored Lumias, but if you're after the real deal, Vietnamese luxury brand Karalux may have exactly what you want. Actual 24k gold-plated limited edition Lumia 930 has just been launched in Vietnam and only 99 numbered units are being made.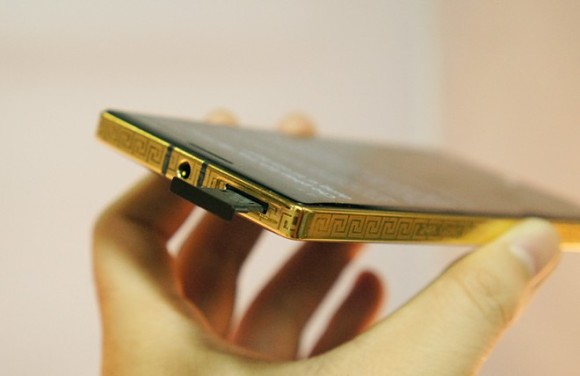 The jewel of a phone sports a Greek meander pattern on its gold outside frame with the words "24K Gold Plated Nokia Lumia 930" inscribed, making sure it doesn't get mistaken for the plain Microsoft model.
The buttons and SIM card slot, as well as the back, have remained black for a nice contrast over the shiny outline. Overall, if it weren't for the screaming gold inscription, it would have actually been a rather understated design.
The company goes on to explain how difficult a process it is to cover the aluminum frame of the original 930, involving multiple stages and various metal coatings. The handset will set you back some 18,000,000 Vietnamese Dong ($842), which is just under twice what Microsoft is charging for their impostor of an offering.
D
you see the edge? I don't like it from now ..ugly ornaments .. and gold is soft 24k even more .. and it is still cheaper then the UK carriers and the random stores in Usa ~500$ and uk around 500~600 pounds but comes with extras vouchers and headphone...
B
That 11 mil price is for Lumia 930 gold, the one that Microsoft officially launched. This 24K gold-plated version costs more than that.
V
actually, the price is 11.000.000 Vietnam Dong (about $524 ) Not much like that :p
ADVERTISEMENTS