400 million machines now run Windows 10 thanks to the free-upgrade program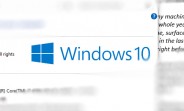 There are now 400 million active machines running the company's latest operating system, Windows 10. After the not-so great reception that Windows 8 and 8.1 had, not to mention its really unintuitive Metro UI, Windows 10 brought a souped up version of Windows 7 with elements of Windows 8.1 built-in.
Just a few short months ago, Windows had 350 million active devices just a couple of weeks before it stopped offering free upgrades to Windows 10. All machines running Windows 7 and above were eligible for the free upgrade which lasted an entire year. This was a huge part of why so many machines are running Windows 10 today.
"Active Machines" refers to all machines being actively used in the past 28 days. This includes PCs, smartphones, Xbox One, Surface Hubs and the Hololens.
Since the upgrade period has ended, the adoption has slowed down to those who are purchasing new PCs or upgrades. Microsoft hopes for the OS to hit 1 billion active devices someday, quite an ambitious feat. But there's not a specific goal for when they'd like to hit that number by.
?
Bring on the Surface Phone!
?
how to turn it off ? when it begin, even nerd have hard time to completely kill it. you need to MANUALLY remove DOZENs update, pick update manually or disable update once and for all after it. later, a script./tools made by nerds (which need to be u...
k
At first I had a few problems with display but after a few update later its working great no mo problems satisfied customer
ADVERTISEMENTS