Yet another day, yet another iPhone 6 leak. After being pictured by Taiwanese celebrity Jimmy Lin last week, the alleged iPhone 6 has again made an appearance. This time it's next to the new HTC One (M8) flagship.
The device looks very similar to the one Lin showcased, and is likely a dummy unit with non-operational hardware. The same thin waistline is what's most striking, and you can really get a glimpse of the size of the upcoming Apple flagship placed next to the HTC device.
As an added bonus, another source has posted additional shots of the iPhone 6 in Space Gray. here are some of them.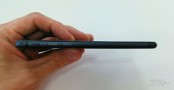 You can also check out some shots of the alleged new 5.5-inch iPhone 6 model. Both devices are rumored to be announced by Apple this fall.
n
moto g 2 coming on this diwali so ignore this..................................... wid 5 inch full hd thin screen.........
?
Easy if you dont like it dont buy it. i put this easy enough?
?
whats is the issue with the features omg if iphone or android have the dea... feature well is good to the client. nobody is stealing anything from you is bussines nothing personal if you look all the phones right now all do the same but with differen...