The upcoming 5.5" Apple iPhone 6 will ship running iOS 8 and the company could potentially make use of the larger screen and make it run apps in landscape. Using the Apple SDK iOS simulator, developer Steven Troughton-Smith has managed to run it at 736 points x 414 pixels (1472 x 828 at 2x or 2208 x 1242 at 3x) and shared screenshots.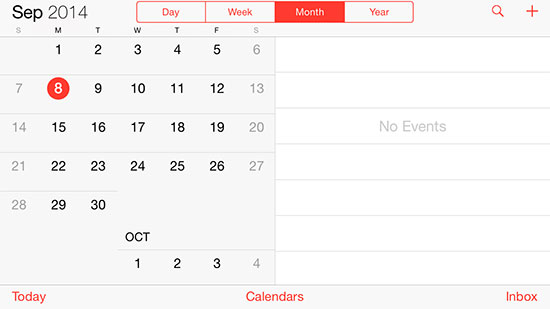 As you can see from the screenshots, the 5.5" iPhone 6 could embrace its phablet spirit and provide a more productive app layout when used in landscape. The dual-pane interface is more akin to the iOS look on iPads, too. Apple talked about the feature, called Adaptive UI, at a WWDC 2014 developer session.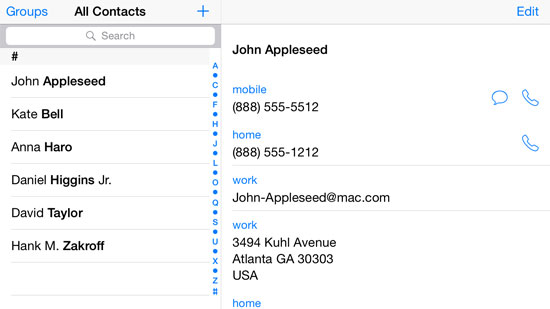 Yesterday we saw a couple of videos showing the iPhone 6 fully working.
The 5.5" model of the iPhone 6 is expected to arrive later than the 4.7" model, but would feature more powerful internals. It is also rumored to come with a different touch module. This unconfirmed piece of information falls in line with a past report, which suggests that the larger iPhone device will tote a sapphire display, while the 4.7" model won't.
Apple is holding its iPhone-centric press event tomorrow. Then, the company is anticipated to unveil the 4.7" iPhone 6, while the 5.5" version is rumored to launch in December.
T
Landscape mode, Oh thats right 4 years ago my nova launcher had this and still does. So what is all the fuss about, as i used landscape mode once then never used it again. Isnt this very very old news
?
Iphone have to kill only smartphone for any specs, 1. Iphone 6 have better brightness and sharpness display screen of Nokia, Samsung, HTC and LG, 2. Iphone 6 have better body desing of Nokia, HTC, LG.. 3. Iphone 6 have faster processor of Noki...