Detailed specs of two exciting phones leaked from the most unusual of places today. Two upcoming additions to the Motorola lineup got listed on the website of UK retailer Argos, complete with detailed specs and even pricing info. The devices in question are called Moto G Titan and Moto E Styx and they are both powered by the latest available Android 5.0 Lollipop.
The Moto G Titan is basically a 4G LTE version of the Moto G (2014). It fits in the same chassis as the current Moto, measuring 141.5x70.7x10.99mm but weighs 6 grams more at 155g. Its screen size is still 5", but the listing speaks of 1280 x 768 pixel resolution, rather than the 1280 x 720 pixel screen of the Moto G (2014). Given that the footprint hasn't been modified it's likely that this is a typo though as the different resolution would mean a different aspect display.
Other confirmed Moto G Titan specs include 8GB of expandable storage, quad-core CPU and an 8MP camera. Finally, the price listed for the SIM-free model £159.95, which is slightly more than what Moto G (2014) currently costs, but that was to be expected from a 4G model.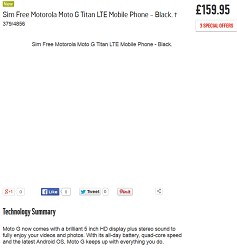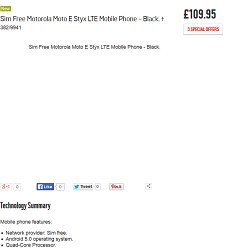 Moto G Titan and Moto E Styx leaked pages
The other leaked phone is Moto E Styx and it is to the Moto E, what the Titan is to the Moto G. That is to say it adds 4G LTE connectivity, while maintaining the same size and likely design. This time however the upgrade also includes a snappier chipset as the CPU has been switched to a quad-core one from a dual-core on the original Moto E. Despite that the Moto E Styx is listed as costing £109.95, or about £10 more than the Moto E.
We are yet to see actual photos of the two new smartphones, but given the identical dimensions they will probably look just like the current Moto E and Moto G. Here's hoping Motorola makes those official soon so we also learn when we will actually be able to buy them.
?
with my Titan it won't let me change on to the N which I thought was standard but I believe that is down to the opp system which is annoying, as I wanted to go to 5 band for the internet from home.
?
Most phones in the UK are only single sim. For example, my first gen moto g is single sim, while some foreign ones are dual sim.
?
When they released this model in Brazil late last year it had 16GB of space. This one only has 8GB according to the advert in argos uk. Does that also mean that it may not be Dual SIM like the one in Brazil?