Alcatel has been doing mid-range and budget smartphones for quite a while but it seems the manufacturer is readying a phablet that'll challenge the big league's competitors.
The Russian blogger Eldar Murtazin has snapped a shot of an Alcatel official presentation showing the One Touch Scribe Pro and its specs. The phablet has a "massive" 6.0-inch display of unknown resolution and runs on a quad-core 1.5GHz processor. The Scribe Pro also sports a 13MP camera, a 3400 mAh battery, dual-SIM support, a stylus plus an interesting flip cover with hidden LED screen.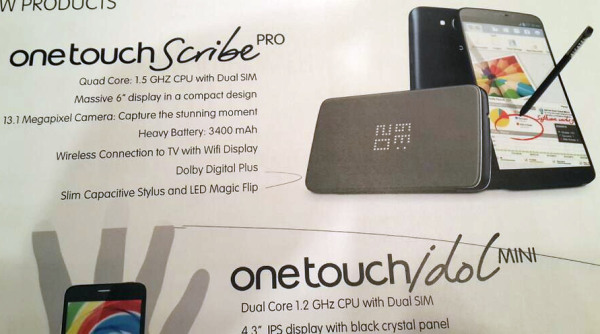 Murtazin says Alcatel One Touch Scribe Pro will be released in Hong Kong this month and will cost $300. If true we hope Alcatel will launch the phablet soon in other markets too.
There is a second phone below the Scribe Pro that we haven't seen yet - the One Touch Idol mini. It runs on a dual-core 1.2GHz processor and comes with a 4.3" IPS display. The original OT Idol features a 4.66-inch IPS display.
We hope we learn more about the upcoming Alcatel smartphones at the IFA expo in Berlin next month.
l
what if I forgot my password in opening my internet. I gave my alcetel mobile phone to my mother and she's asking for my password so she can download the internet. please help me.
r
is there any showroom to see the mobile
D
Are you sure? For how much? and where?.
ADVERTISEMENTS