Galaxy Nexus vs. Optimus LTE screen shootout
Now in HD: Galaxy Nexus vs. Optimus LTE screen shootout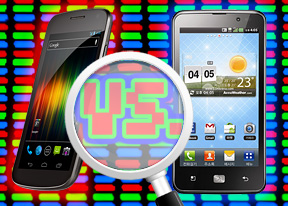 Introduction
Done pushing megapixels and well into pixel popping, still the good old numbers game. HD screens are the next big thing and they'd better enjoy it while it lasts, with quad-core around the corner and all.
Anyway, is it just another number to brag about or is there really something to the "HD" label. To find out, we're looking at two of the first smartphones with 720p screens - the Samsung Galaxy Nexus and the LG Optimus LTE (very similar to the LG Nitro HD).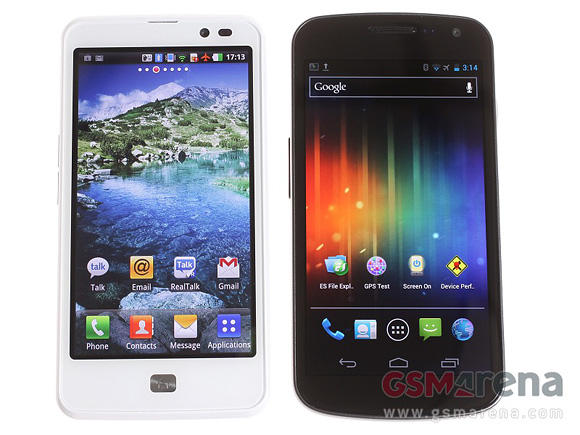 The two have similarly sized screens - 4.65" for the Nexus and 4.5" for the Optimus - and both push pixel density over 300ppi, the threshold above which eye-watering magic starts to happen.
They are from two different worlds though. The LG Optimus LTE uses a traditional three-subpixel matrix for its AH-IPS LCD display (a.k.a. True HD IPS), while the Galaxy Nexus has only two subpixels per pixel (called PenTile) in its Super AMOLED matrix.
Both have plenty to brag about, but they won't get away with just judging them by their sharpness. LG are shaping up as the standard-setter in display brightness, so that's something to look out for. Viewing angles (a typical weak spot for LCDs) is another thing they seem to have addressed.
There's a lot to test, so let's not waste any more time. We'll be doing both scientific measurements (trying to break down display performance into hard numbers) as well as providing subjective opinions (as hunting for the better spec doesn't always result in the best experience).
Side note: For those of you getting acronym sickness, AH-IPS LCD stands for "Advanced High-Performance In-Plane Switching Liquid Crystal Display". AMOLED is short for "Active Matrix Organic Light-Emitting Diode".
?
I wish if galaxy nexus has the IPS LCD with HD and Samsung hardware with TI OMP 543 chip and 2500 battery, that's it's going to be the best Google phone ever made.
J
At least you called yourself a troller. Wow... that was close.
?
good thing you know you're a troll cause fore one thing super amoled plus is not pentile. second show us a picture of yellow in place of white please.