So you have an iPhone 7 or iPhone 7 Plus and after yesterday's keynote you are unsure if there's any reason to switch to the iPhone 8 or 8 Plus. Or maybe you're just looking to find how much of an upgrade the new models are. Either way you've come to the right place.
We went through all differences between the new iPhone 8 Plus and found 7 solid ones to justify an upgrade over the 2016 to the 2017 iPhones.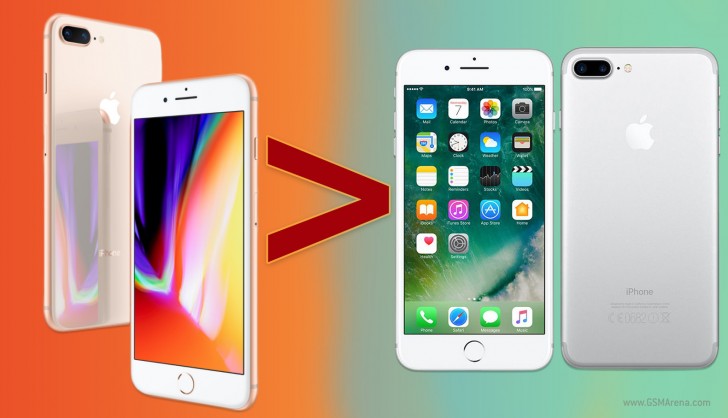 Design
The iPhone 8 Plus has an all new glass back and one new color option. Apple promises that its new Ion-strengthened glass is the toughest yet on a phone.
Storage
The base storage of the iPhone 8 duo is now double that of the iPhone 7 family - we are finally past the point where the starting price got you storage that was borderline unusable on your main phone.
Wireless charging
The iPhone 8 Plus has a glass back for a reason - it supports the Qi wireless charging standard.
Fast charging
The iPhone 8 and iPhone 8 Plus also have fast wired charging - up to 50% of charge in just 30 minutes. If you own an iPhone 7 Plus you know how tediously slow it charges.
Improved screen
Okay, the iPhone 8 Plus retained the display size, resolution and display technology - LCD - but the screen is different. It lacks the Dolby Vision and HDR10 support of the iPhone X but is a True Tone display, meaning it will read the ambient light and adjust the white balance accordingly - so you'll never have too warm or too cool screen color output. Both panels feature what Apple call dual-domain pixels for better viewing angles.
New camera
The camera resolution remained 12MP, the iPhone 8 comes with new, larger sensor and a better, faster image signal processor and a new color filter. All of this promises better colors, faster focusing in low light, lower noise in lower light, real-time image and motion analysis - body and face detection, wide color capture, new frame rates for video - 4K at 60fps as well as slow motion 1080p at 240fps.

Portrait mode on the Plus model has gotten better. It now supports Portrait Lighting, which scans a scene and let's you choose what type of light hits your subject - strong, soft, studio. And you can adjust it after you've taken the shot too.
A11 Bionic chip
This is the biggest reason by far. The A11 Bionic should wipe the floor with the A10 Fusion. It's built on a new 10nm process (as opposed to the 16nm of the A10 Fusion), it has more transistors, more CPU cores (six vs four) and a new Apple-made GPU.
The A11 Bionic has 6 cores - 2 high-performance and 4 power-efficient ones. The A10 Fusion has 2 of each type. The A10 Fusion chip can run either the 2 fast cores or the 2 slower ones, while the A11 can run all six at the same time.
Apple promises 25% faster performance cores, 75% faster power efficient cores and 70% faster multi-threaded performance.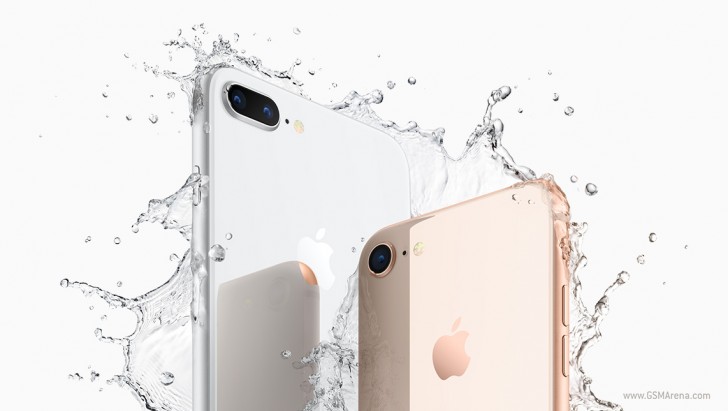 On the other hand the iPhone 8 Plus is 20g heavier than the 7 Plus, while the 8 weighs 10g more than the 7. And that's while having the exact same ample bezels as last year's models - actually those haven't improved since the iPhone 6 and 6 Plus came in 2014.
A more important reason not to move to either of the iPhone 8 versions however is the iPhone X - it just looks so sexy that it makes the other two as coming from a previous era. If only it wasn't as pricy as it was this would have been a much shorter story.
?
7 Reasons why you should never buy an iPhone 1. It's overpriced crap 2. You pay more for specs and features from Android phones 4 years ago 3. No headphone jack 4. Overpriced accessories to get back lost functionality 5. Poor to mediocre ba...
H
This is obviously a phone and article for consumer iSheeps and there will be plenty to let Apple roll in their cash. Brand new glass back and stronger glass? Plenty will buy cases to not break it since they were used bump the back like its still me...
K
not just about the actual height. When looking at the S8, it feels so tall because we cannot see the solid sides. And I'm feeling like I'm holding a TV remote. I like solid sides and corners. Maybe it's just me, though. Sony is good but their bezels ...