Apple just published data revealing that its current iOS 11 is used by 85% of compatible iPhones and iPads. The information comes on the eve of the release of iOS 12.
The older iOS 10 is in use on 10% of active iDevices, while earlier versions of Apple's mobile OS are used by just 5% of those.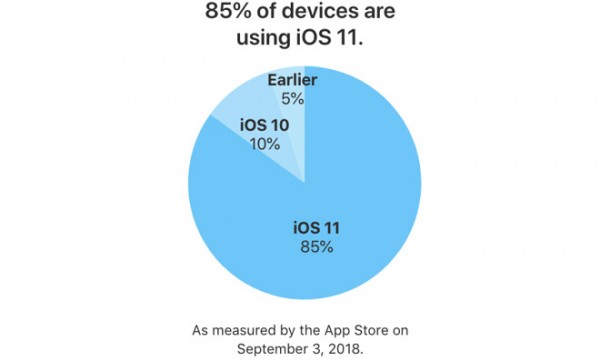 Apple iOS 12 will focus on improving performance, especially on older devices. But of course it will receive a bit of polish to features such as the Control Center and notifications and add new features such as AR Kit and iPhone X-like gestures on the iPad. You can read our detailed hands-on with iOS 12 to find out all about the new features.
Apple will hold its annual iPhone event in a week on September 12 and is expected to release iOS 12 to compatible devices a week after that.
Damn. I should've known that from the name. Well all I can say is that OnePlus 6T could satisfy you, though if you don't like, you could sell it and get back to the drawing board
?
Bwahahahahaha. First of all....that's not even true. Second of all.....how in the world does you claiming a 6s is faster than a note 8 show that an iPhone 6 is faster than a note 9??????????????? Lololol