The latest and greatest
Grand 8 megapixel shootout: The latest and greatest

Camera features round-up
With 8 megapixels all around, these cameraphones seem to offer the same horsepower but hardly the same ride. The camera interface counts big time for user experience. And essentially, it all boils down to: (1) camera features and (2) user-friendliness.
Weighing up Camera Features we look at what the camera can deliver. It's stuff like shoot modes (macro, burst, panorama, frame, collage), flash settings, available preset scenes, ISO setting and some other extras such as geotagging, face and smile detection, blink detection, manual focus, image stabilization and viewfinder gridlines.
User-friendliness is perhaps more abstract and harder to judge. It takes into account things like settings layout, available shortcuts to camera functions, tooltips and other visual hints at the specifics of each setting, etc. It is basically a subjective call, so you'll you have to rely on our experience with cameraphones and digital cameras and trust our judgment. Or not.
We also take into account the actual looks of the camera interface - the eye-candy factor is important too.
Now, let's get to the real deal and start exploring the camera features of our contenders today. We'll continue with the usability checklist on the next page.
Basic camera features
In terms of camera features all our contenders seem to have their own quirks. All have a pretty identical set of standard settings such as white balance, adequate preset scene modes, self-timer, color effects, and exposure compensation. A dedicated macro mode is available in each and close-ups usually turned out fine. Samsung's Pixon and INNOV8 also have Sharpness/Saturation/Contrast settings that neither of the others has.





Samsung i8510 INNOV8 camera interface
ISO settings
Manual ISO is useful when you want to minimize noise by setting it at the lowest or when you want to freeze the action in a low-light scene by flicking it up to the max.
Except for the Sony Ericsson C905, which claims to but has no ISO setting, all the other three cameraphones can pump it up to ISO1600. Of course the ISO1600 level is barely usable for the high noise it creates, but it's nonetheless a feature that is at hand in point'n'shoot cameras.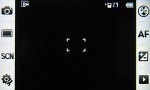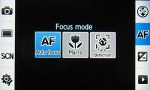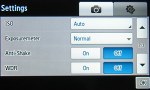 Samsung Pixon camera interface
By the way, if you are the kind that steers clear of any setting with a fat abbreviation on it, you might as well go for the preset Scene modes, where all the right settings are served (including pumped up ISO in low light).
Flash settings
The flash settings on all four mobiles are pretty consistent too. The couple that has xenon on board (LG Renoir and SE C905) have a red-eye reduction mode but unfortunately lack a forced flash mode, which could have made the flash useful as fill light in backlit scenes.
Note that the score here doesn't take into account the actual flash performance but only the settings associated with it. We already measured flash power in a dedicated on the previous page.
Burst shooting mode
Almost every cameraphone has its own approach to Burst mode. Sony Ericsson C905 uses BestPic mode to take up to 7 images in a row at the highest resolution. Once they are taken, they are pretty easy to review as the phone doesn't save them before you've picked the keepers. LG Renoir offers pretty much the same - 7 images at 8 megapixels and a pick-to-save interface.
The two Samsungs are obviously the underdogs in terms of Burst handling. Samsung INNOV8 can snap up to 9 images in a row with a pick-the-one-to-save interface but the shots are in VGA resolution. Samsung Pixon does the same, only the resolution is further demoted to QVGA and the user has no say on which shot to save.
Panorama shooting mode
Panorama images are a fun way to capture the grandeur of landscapes. While it does take some human skill, all of our contenders make it easier for you by automating the whole image stitching process.





Sony Ericsson C905 camera interface
When it comes to taking panos, LG Renoir is the top dog. Renoir panoramas consist of up to three full resolution 8 MP shots. The actual snapping is not automatic but your panning is assisted by a semi-transparent overlay on screen to show you where the last frame ended, so you can take it from there.
Now, if LG Renoir is the deal, Sony Ericsson C905 is quite obviously the underdog. Its panos are again made up of up to three shots but all in VGA resolution - quite lame really. It has the same assisted framing as the Renoir.
The Samsung couple is somewhere in between. Their most impressive feature is that shots are taken automatically by the camera - you are only responsible for the actual panning. There are also on-screen guidelines to help your consistent framing.
The best thing about the Samsung Panorama mode is that automatic shooting works both in portrait and landscape. Samsung Pixon is taking 1.3 megapixel shots: up to two frames in portrait and up to 8 frames in landscape mode. The Samsung INNOV8 works in VGA resolution and takes up to 8 images in either.
Now that we've got panoramas covered, let's check out a relatively new feature that sneaks into almost all current cameraphones.
Geo-tagging
It's geotagging, ladies and gentlemen, and we are glad to welcome you to location awareness. Thanks to the built-in GPS (or cell tower triangulation) you get fairly accurate GPS data embedded in your photos. Later on, when you upload them to a geotag-enabled photo sharing service (Flickr or Picasa to name a few) you can show your friends and family where you took those cool shots.
Currently all our 8-megapixel cameraphones offer geotagging courtesy of their built-in GPS receivers. In fact, Samsung Pixon takes it to extreme - the sole job of its GPS chip is geotagging photos.
All handsets locked satellites in a reasonable amount of time. If you are in a hurry and you need the photo right this very instant, the Sony Ericsson C905 will automatically geotag your photos based on cell base triangulation instead of actual GPS data. Geotagging turns quite right that way - it's only a block or two off the actual spot.
Face, smile and blink detection
Face detection and tracking is another hip feature making its way into high-end cameraphones. All the cameraphones in this shootout have it. Unlike digital cameras however, they can only detect/track one face at a time except for Sony Ericsson C905. The implementation of the feature in C905 is not ideal though. While it can track three faces at a time, only one gets focus and the choice is rather random.
Smile detection is a nice add-on to the face detection gadgetry. All of our cameraphones have it save for Sony Ericsson C905. When smile detection is enabled, it sets the camera in auto shutter mode, so instead of shooting right up when you press the shutter all the way down it waits for a smile on the currently detected face and snaps only when the time is right.
And the other geeky feature is blink detection, which is supposed to deal with eye blinks in portraits and group shots. Again, the C905 takes it easy on that one, but all the other three handsets have it.
Digital image stabilization
And finally, digital image stabilization helps you keep your camera steady in low light situations. It won't be of help if your subjects are moving, but it can theoretically help you shoot sharper low-light cityscapes. All the cameraphones in this shootout have image stabilization, but the effect is somewhat dubious.
Special features
Now that we've covered all the shared specs, let's look at unique features that set each of our cameraphones apart.
The Sony Ericsson C905 camera has the proprietary Smart Contrast. Smart contrast is a method of enhancing detail in the dark areas of a contrast-rich scene (composition with a lot of bright and dark areas), giving the image a more balanced light range. This mode is quite helpful in backlit scenes.
Samsung have their own Wide Dynamic Range (WDR) implemented on both the Samsung INNOV8 and the Samsung Pixon. The WDR mode helps with high contrast images by overexposing them a bit. You get nicely developed detail in the shadows; however the brighter areas of the photos tend to lose detail.
LG Renoir also has some aces up its sleeves. Beside manual focus, it also offers the so-called backlight compensation mode. It helps shoot backlit portraits by carefully balancing enhanced details on the face and keeping as much detail in the background possible.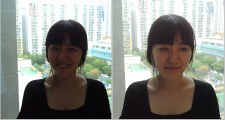 LG Renoir Backlight compensation mode (image source Project KC910)
Now, on a normal camera you would shoot a backlit portrait in one of three possible ways - using flash as fill light to overcome the strong backlight, using exposure compensation for a properly lit face (risking a slow shutter speed) or by setting exposure metering to spot, to make the camera measure light in the center of the scene only instead of trying to balance both the subject and the background.
As fill light is not an option with these cameraphones, we tried to achieve the same effect by using exposure compensation or spot metering and we couldn't get the nice balance of the LG backlight compensation mode. So it's way to go for Renoir.
Another tool in the LG ammo is Beauty shot, which we guess many people would welcome. It smoothes skin and enhances skin tone for a better portrait.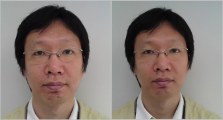 LG Renoir Beauty shot mode (image source Project KC910)
LG are also the only ones to offer enhanced color effects that include cooling or warming the scene and adding a nice looking vignette as part of their Art shot. Those are things that you can easily replicate with most desktop image editors but if you are among the many people that don't like to waste time with post processing, you get a chance to have those shots straight in the camera.


LG Renoir Art shot mode - one of the effects (image source Project KC910)
And finally, LG are offering the nifty little Touch shot feature. It's simple - choose an object you would like to focus on and simply point it on the screen. When the handset focuses, lift your finger and voila - you've got your photo.
Unfortunately, that type of focusing is way impractical in real-life shooting. The whole thing brings all kinds of challenges.
When you touch the object on the screen, you can't really see what's under your finger. So you can't know if your subject looks good right when you shoot; you can't see when the autofocus indicator has turned green to show you it has nailed it, and you will be struggling to frame your shot with your finger getting in the way.
And by the way, the LG Renoir is not the first handset to introduce Touch Focus - Sony Ericsson G900 pioneered it, the Sony Ericsson XPERIA X1 features it as well.
The camera features chapter turned out quite long, but it's understandable as we're dealing with some really capable cameraphones. It's not an easy conclusion, but the LG Renoir comes out as the most complete device in terms of camera features. The other mobiles are still pretty close, but remain runner-ups.
SE C905: 5/10 • Samsung INNOV8: 8/10 • Samsung Pixon: 6/10 • LG Renoir: 9/10