The latest and greatest
Grand 8 megapixel shootout: The latest and greatest

Picture this - on your mobile phone
We all know how good it is to preview your shots as soon as you've snapped them. It allows you to immediately go for a second shot if framing wasn't right or you can simply show your super cool snapshot off to everybody around.
When it comes to previewing your pictures, almost all of the cameraphones score nicely. Of course, there are differences in screen size and quality, which can make or break the image browsing experience. Riding the accelerometer wave. all of the handsets are capable of automatically rotating images with a flick of the hand.
Sony Ericsson C905 is really fast at image browsing and also has a snappy zoom on photos that works in large steps. The animated slideshows the Sony Ericsson C905 runs are also better than the competition - they have intriguing transition effects and nice music background with almost no setup required.



Sony Ericsson C905: Photo viewer in Media center
Sony Ericsson C905 has also got the best display among the bunch when it comes to performance under direct sunlight. Still, we feel that at 2.4" the C905 display is a little too small for a high-end multimedia device.
Traditional Samsung, the INNOV8 offers two image galleries. The first one is to be found in the usual Media section. Browsing images there is rather slow, so a better option is the camera gallery that is accessible by sliding the side-mounted camera slider.
Image browsing in the second gallery is way faster, while thumbnails pop up nicely as you go through them. Zooming though is not as smooth as on Sony Ericsson C905.





Samsung INNOV8: The Media gallery is slow • the camera gallery is much better looking and responsive
Slideshows on the INNOV8 also have a disadvantage, as they offer only several plain transitions and no background music. If you opt to use its Movie Maker application, you can make yourself video slideshows out of your images. However they take quite a lot of time to render and are more complicated to setup than the Sony Ericsson C905 slideshows.
Unfortunately, the Samsung INNOV8 doesn't deliver adequate sunlight legibility on its 2.8" display.
Both LG Renoir and Samsung Pixon offer touch optimized galleries. Jumping from image to image is a matter of a finger sweep, but we gotta say LG have it a bit more fluid than the Pixon.
Samsung Pixon again has two galleries. The regular one has simpler interface, which however performed better than the tuned up Photo Browser.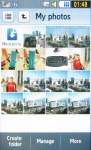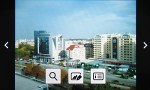 The regular image gallery does its job just fine
A dedicated hardware shortcut starts the Photo Browser on the Pixon. There's also the highly advertized tilt image browsing, where you just tilt the phone to start the images scrolling down the screen. We've got to say it's not that cool after all - just imagine looking at those images with your head tilted to the side.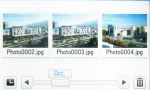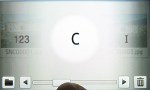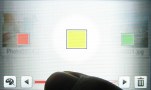 The Samsung Pixon photo browser offers a variety of sorting methods including color
Scrolling images in the Pixon gallery follows alphabetic filtering by default. It seems pretty out of place, as all file names of photos produced by the camera start with the letter "P" - as in "Photos".
Luckily, you can opt for some other filters such as the usual "by date" or the more intriguing "by color".
The LG Renoir and Samsung Pixon are a bit disappointing when it comes to slideshows, as they don't even put up transition effects.
The LG Renoir compensates a bit for this fact with its Muvee studio for making animated slideshows out of your pictures. The resulting slideshows resemble the ones by C905 and you can even export them as MPEG4 video files; something the C905 is not capable of doing. However making such videos on the LG Renoir takes quite some time and setting up a video is a bit complicated.
So in conclusion, it's pretty much an even score for LG Renoir and Samsung Pixon. Both are somewhat slow in loading the image gallery, as well as in zooming.
When it comes to the display quality of both touch handsets, we feel that the LG Renoir has the upper hand although it's got a slightly smaller screen estate. It still offers the same resolution as the Samsung Pixon but has better sunlight legibility.
So, when it comes to browsing your pictures we liked the media gallery and screen legibility of the Sony Ericsson C905 best. However, its small screen gets blown away by the large 3" display of the Renoir. The fluid thumbable gallery is another advantage, so we guess it's only fair to give those two the highest score in this part of the assessment.
SE C905: 9/10 • Samsung INNOV8: 5/10 • Samsung Pixon: 7/10 • LG Renoir: 9/10
Final words
There we are then, the 8 megapixel shootout is over and the crossfire is about to begin. Doing all those tests was fun but it was hard too. Now that there's seemingly the simplest thing left to do, we'd rather sit back and let everyone do their own math.
It was our best effort - and our pleasure - to weigh up and compare all there is to a cameraphone. We know there's no way for every single feature on our list to be equally relevant to all users alike. So, if you're about to make up your mind, we suggest you only look at those that are most important to you.
However we can still offer you a quick summary of our overall impression, without getting into numbers.
If you are looking for the universal performer, then the Samsung INNOV8 is your definite choice with excellent image results. Besides first-rate stills, it also delivers VGA video recording 30fps or slow motion QVGA videos at 120fps and has a large display.
If you are after the best camera interface and probably the best camera handling and controls, then Sony Ericsson C905 is your game.
If you're really into touchscreen and massive high-res displays, you would be right at home with both the LG Renoir and the Samsung Pixon. Now that we received a final version of the Samsung Pixon (05 Dec), it turned out as a quite capable cameraphone.
The LG Renoir still has the leading bunch of still camera features and it's fully geared in terms of video recording with VGA@30fps, slow motion QVGA videos at 120fps or time-lapse QVGA clips. But when it comes to image quailty, we found some test scenes at which the Samsung Pixon offered more eye-pleasing results. The Samsung Pixon also offers WVGA video recording that lacks on the Renoir and a superior user experience thanks to the well organized camera interface.
We really hope you enjoyed this 8 megapixel shootout as much as we did. Forgive us if the article tends to get a bit technical at times, but explaining the basics of photography and camera construction is pretty much out of the scope of this article.