So there is an 8 megapixel cameraphone by Nokia in the works. Meet the Nokia N86 - as official as it gets, it still didn't get an announcement at the MWC 2009. We can't help but wonder why.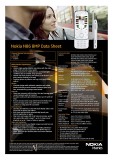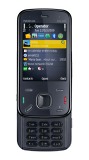 Nokia N86 data sheet and a press image
Whatever the reasons for keeping the N85-inspired slider in secrecy at the MWC, it seems the new Nokia N86 is pretty much officially showcased at some other event.
Along the way we also stumbled upon a live video of the Nokia N86 in action, obviously captured by the same person that took the live shots.
k
nokia n 97 iswonderful practicaly .all needs u will finde it.but only one proplem that the theslide door not strong why dont u make it like e90 orn 86 thats will be better.thanku,
T
I want ur help. my problem is my cellphone mark is nokia megapixel but any message or number don't display the screen is white what shall I do?
ADVERTISEMENTS