Samsung officially announced the Samsung i8510 INNOV8 today - a multimedia monster, which packs top-of-the-range cameraphone capabilities along with Symbian S60 smartphone functionality. And probably the best thing about it is that it will be available in Europe in a few weeks (read August 2008).
The Samsung i8510 INNOV8 (previously rumored as Samsung Primera) has a name that seems really hard to pronounce, but in fact it's the word INNOVATE with some untraditional spelling. We've already reported of a live preview of the device, you can check it out here, but here's the official scoop.
Probably the biggest asset of the i8510 INNOV8 is its 8 megapixel auto focus camera, which has some advanced features such as face recognition, smile and blink recognition, auto panorama mode and geotagging. Unfortunately, there is no xenon flash, but only a dual power LED setup. The camera will be able to record video in VGA resolution at 30fps along with slow-mo QVGA video, which will be captured at 120fps.
The Samsung i8510 INNOV8 is a smartphone based on Symbian OS 9.3 with S60 3rd edition Feature Pack 2 and features quad-band GSM and dual-band HSDPA 7.2Mbps (900/2100 MHz) support. It also has a large 2.8-inch 16M color QVGA display - it serves the Nokia N95 8GB excellently, so we don't think it would have benefitted by a higher resolution. Screen auto rotation is also available thanks to the built-in accelerometer.
The amount of RAM is 128 MB and there will be a dedicated 3D graphics accelerator. Unfortunately there is no information regarding the CPU used in this multimedia monster.
The Samsung i8510 also packs with some massive storage memory - a 8GB and a 16GB version will be available - much like the Samsung Omnia (you didn't hear us say Apple iPhone, did you?). That storage is further expandable via a microSD card slot.
GPS receiver with A-GPS support and Wi-Fi with DLNA certification are also on board. DLNA is basically a wireless media sharing protocol that runs on top of Wi-Fi. Sony Ericsson C905 and Nokia N96 have it too by the way.
For music playback, the i8510 packs stereo speakers, 3D surround sound effect and DNSe 2.0, which is Samsung's DSP technology. There's no word however of the rumored 5.1 surround support. A standard 3.5mm audio jack will be present on board.
Users will also enjoy playback of DivX videos, which is a nice add-on. USB 2.0, stereo Bluetooth, FM radio with RDS complete the feature list.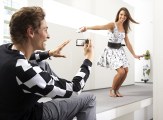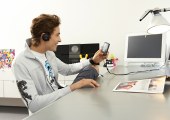 Samsung i8510 INNOV8 lifestyle shots
Samsung i8510 is powered by a 1200 mAh battery and measures 106.5 x 53.9 x 16.9mm, which is close to Samsung's previous Symbian-powered flagship - the G810, meaning it's a bulky fella.
The Samsung i8510 INNOV8 will be first available in Europe next month and its rumored price is 780 euro.
Here is a bunch of live photos, curtesy of MobileBurn.
J
Very very nice solid phone... the best of its kind imo. Anyone thinking of getting one, do as you won't be disappointed. Someone told me that the interface lags a bit... I have to say it does, but I only notice it when you first turn on the phone (fr...
j
sick phone.. cant wait to actually hold it to see how it is. doesnt look that thick, your crazy if you actually think its thick
g
this phone looks like a big mammoth 2 words not interested although im loving the 8 megapixel camera
ADVERTISEMENTS