Still camera features
Four immensely different platforms are taking part in this shootout. There's iOS and MeeGo, and Windows Phone. We have three Androids modified by three different vendors. Parts of the functionality are similar, but there are some unique features too.
Since we've got plenty of specs to explore, we thought one of our comparison tables might help.
The table covers everything from the basics - resolution, scenes, custom settings (ISO, sharpness, etc.) - to things like starting the camera from the lockscreen. Not all of those are equally important to everyone. We can live without effects or we can add them later via a third-party app. We've thrown them in for good measure but they will not have a major impact on the ranking.
STILL CAMERA FEATURES
 
iPhone 4S
Nokia N9
Galaxy S II
Arc S
Sensation XE
Titan
Resolution
3264x2448 (8MP)
3264x2448 (8MP)
3264x2448 (8MP)
3264x2448 (8MP)
3264x2448 (8MP)
3264x2448 (8MP)
Claimed 35mm equiv.
28mm
28mm
28mm
?
?
28mm
Measured 35mm equiv.
30mm
27mm
28mm
28mm
32mm
27mm
Aperture
F2.4
F2.2
F2.65
F2.4
?
F2.2
Shutter key
Sort of, cont. AF
Virtual, cont. AF
Virtual
Hardware (difficult)
Virtual, cont. AF
Hardware, cont. AF
Touch focus
Yes
Yes
Yes
Yes
Yes
Yes
Secondary camera
640x480
(VGA)
no software support
1600x1200 (2MP)
No
640x480
(VGA)
1280x960 (1.3MP)
Flash
Single-LED
Dual-LED
Single-LED
Single-LED
Dual-LED
Dual-LED
Customizable shortcuts
No
No
Yes
Yes
No
No
Scenes
No
Yes, auto
Yes
Yes, auto
Yes, auto
Yes, auto
Face detection
Yes
Yes
Yes
Yes
Yes
Yes
Blink detection
No
No
Yes
No
No
No
Smile detection
No
No
Yes
Yes
No
No
Geo-tagging
Yes
Yes
Yes
Yes
Yes
Yes
Panorama
No
No
Yes
Yes
No
Yes
Start from lock screen
Yes
Yes
No
No
Yes
Yes
Other
AE/AF lock, HDR
7.1MP 16:9 photos
Beauty, Action shots
3D panorama on 3D HDTV
Auto enhance
Burst mode
GSMArena usability score
9
7
8
8
7
8
GSMArena features score
7
6
9
7
5
7
The table gives the yes or no answers but doesn't quite tell the whole story of the level of usability. Every phone has its quirks and highlights so we'll go over each of them quickly.
The iPhone 4S has the least amount of adjustable settings of all six – basically, you can choose to enable geotagging, a viewfinder grid and touch focus. HDR mode and AE/AF lock are there though and are as good as unique among smartphones. So the 4S isn't actually as short of features as the simplistic UI might suggest.
A double-click on the home key on the lockscreen gives you the option to launch the camera straight from there.
The Nokia N9 doesn't really have any toggles for setting up the shot in the viewfinder, but you see resolution, scene and flash mode indicators. The settings menu however is our favorite - it's simple to use with taps, easy to understand and offers a fair number of options.
The Samsung Galaxy S II has the upper hand in the viewfinder, as you can choose 4 shortcuts to be easily accessible. The settings menu is rich with all kinds of options you can think of, but might be too complicated for the casual users as things go into submenus and aren't all that well organized.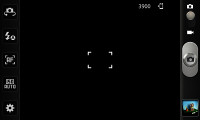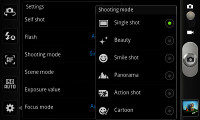 Samsung I9100 Galaxy S II camera UI
The Sony Ericsson Xperia arc S also lets you choose which shortcuts are visible in the viewfinder and the settings menu is easy to pull out. It's a bit light on options though and the shutter key is uncomfortable. At least it's there. Touch focus is enabled too, though it only works when the touch capture option is activated meaning every touch on the screen actually focuses and snaps the shot.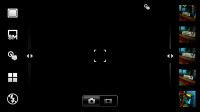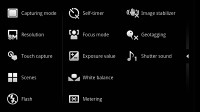 Sony Ericsson Xperia arc S camera UI
The HTC Sensation XE offers a number of basic shortcuts in the viewfinder and a fairly comprehensive list of settings. You can start the camera straight from the lockscreen thanks to the novel unlock routine in the latest HTC Sense UI.
The HTC's other contender here, the HTC Titan, offers a good deal of options, but all of them are buried in the settings menu. The shutter key is very comfortable to use though and it will unlock the phone and launch the camera right out of the pocket (others can start the camera from a locked state but need you to wake the screen first).
The cameras differ quite a bit in terms of user interface, each with its high and low points so we scored each one of them to make them easier to compare. We're also scoring the set of features each camera offers out of ten.
Camera startup and shot-to-shot time
One of the big conveniences of using your mobile phone as a camera is that's it's always with you. But what if the camera takes too long to start or between shots - you might miss the moment.
We also timed the cameras in cold and warm start scenarios and measured shot-to-shot time.
MEASURED CAMERA STARTUP AND SHOT TO SHOT TIMES
iPhone 4S
Nokia N9
Galaxy S II
Arc S
Sensation XE
Titan
Cold start
1.4s
1.6s
2.1s
3.3s
2.7s
1.6s
Warm start
1.4s
1.5s
2.1s
1.0s
1.6s
1.6s
First shot
0.7s
1.3s
2.4s
1.1s
1.2s
1.5s
Shot-to-shot
0.7s
1.1s
2.4s
0.9s
1.1s
1.5s
The iPhone 4S was generally the fastest - the 0.7s shot-to-shot time was the most impressive. The Sony Ericsson Xperia arc S managed to get close with 0.9s shot-to-shot time (that's the time between second, third and so on shots) and it's warm start of 1.1s beat the iPhone's 1.4s. However, the arc S is quite slow when starting up the camera for the first time - the slowest of all six phones tested.
Macro
We also did a quick test on the performance of each camera's macro mode - all cameras got as close as 7.5cm or less (that's 3 inches or less) and managed to get a focus lock. The Samsung Galaxy S II managed to get the closest, but the difference is an inch.
We also measured how much area each macro shot covers (i.e. the sides of a rectangle. All six phones have the exact same resolution, so the smaller the area, the more magnification you get.
MEASURED MACRO COVERAGE
iPhone 4S
Nokia N9
Galaxy S II
Arc S
Sensation XE
Titan
Macro coverage
(lower is better)
6.6cm
6.5cm
6.4cm
6.9cm
5.9cm
5.3cm
Despite getting the closest, the Galaxy S II didn't offer the best magnification - that honor goes to the HTC Titan. The Sony Ericsson Xperia arc S did worse here but the difference wasn't major - about 30%.
Note that sometimes all the phones would report a lock when the image was clearly out of focus, so you need to be careful or some of your shots might not come out right. The problem usually occurs if you rely on the continuous autofocus.