For many weeks now Apple has been rumored to introduce a new 9.7-inch iPad at its spring event which is taking place on March 21 (this coming Monday). Recently we've heard that it won't be called iPad Air 3, but will instead go with iPad Pro branding just like the 12.9-inch tablet which is already available.
That makes sense considering that most of its rumored specs are effectively 'borrowed' from its bigger sibling, so why not ape the name as well? Anyway, today a new rumor claims to shed light on the 9.7" iPad Pro's pricing.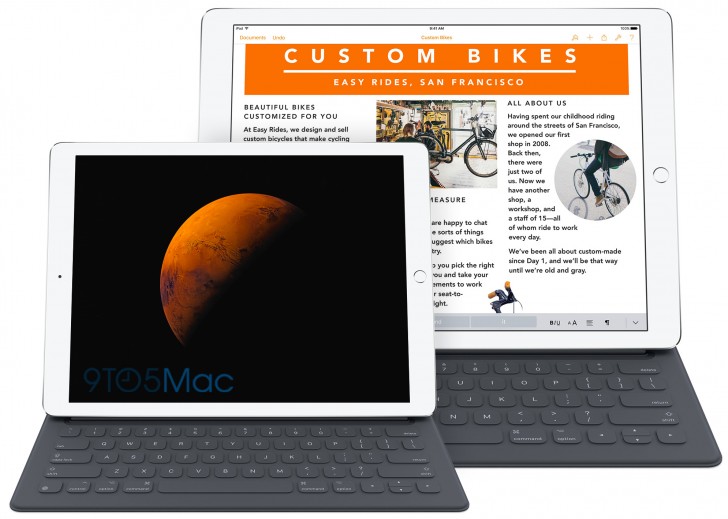 It will start at $599, which is $100 more than the base model iPad Air 2. However, there is a caveat here. Whereas the $499 iPad Air 2 comes with Wi-Fi and 16GB of storage, the $599 iPad Pro will get 32GB of space. On the other hand, for $599 you can now buy an iPad Air 2 with 64GB. So while an exact 1:1 price comparison isn't possible, it's safe to say that the cheapest 9.7" iPad Pro will be more expensive than the entry-level Air 2 and will offer less storage than the identically priced device from 2014.
The new iPad Pro will also get an iteration with 128GB of space, as well as LTE connectivity. Interestingly, the unnamed sources behind this info say the iPad Air 2 will remain on sale even after the 9.7-inch iPad Pro becomes official. However the original iPad Air, which is still up for grabs right now, will probably be discontinued.
The new, smaller iPad Pro will come with four speakers, a brighter display that supports the Apple Pencil stylus, a Smart Connector for a new Smart Keyboard accessory, and the A9X chipset. The main camera will apparently be a 12 MP unit with 4K video recording support, and maybe even a LED flash.
D
I am an English and ICT professor kid. And if in case you're not aware, lemme tell you that there are many great apps out there that allow professionals like me to do our job and earn a decent living out of this noble profession using this devic...
L
cell phone operating system on the ipad pro is absurd. Come on apple get serious
S
iPad generally lacks of seriousness of what you can do with it.