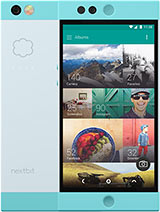 S
The second best android smartphone which I used is Nextbit Robin. My ever loving # 1 is NEXUS 6P.
Looking for the Robin I would like to say this phone is really fast and has a brilliant stylish finishing.

N2
like this phone so far
when you start up do not connect to the wifi during setup also skip the cloud settings for now as its no longer supported and will just leave u at a constant pause

that aside the phone is attractive sleek and well build despite using a plastic shell though not very bend proof a good case and screen protector is probably a great idea for those who know they will accidentally drop this phone


you may also consider going to the google play store and download say google launcher to get the more familiar google layout and menu

this is a phone for people who like to tinker or those who are willing to do some minor stuff to get it comfortable

ive had no issues with the camera it takes acceptable low light pics in a reasonable time
not the fastest but not the slowest

it runs warm to touch when doing intensive stuff but not hot for me

u get 24gb of usable storage space from the 32gb, the no otg support is sad but i use my pc and a usb 3.0 C cable on my pc to back up as well as google photos to store pics


at 130us its a great price and would recommend this phone
Total of 3 user reviews and opinions for Nextbit Robin.