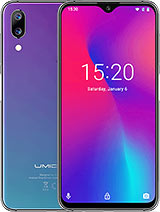 S426
This, is how it would look like for my personal take on bezel-less phone, aesthetically.
s
I just wanted to say that, even though this list says that the Umidigi One Max does not have FM radio, I wanted to clarify that it does. At least my phone does. I tested with earphones and they do act as an antenna. I can pickup FM radio about as well with an actual radio, so I am convinced. I have had this phone for only about 1 day, but it is so far the best phone I have ever had to date. With features such as NFC, Dual band WiFi, Stereo speakers, and two rear cameras, it's by far my most prized phone that I own.
Also, not sure if this makes any difference, but mine is the US version.
D
China Mobile N3 at about $100

5.93" 1080p
Snapdragon 625, 4+64GB
3400mAh with QC3.0
ac WiFi
Glass back, NFC
D1
hy,i love the phone but cant find some amazing features and its killing my interest.
1. when setting up finger print one can see , can unlock apps but its not possible,y?
2. notifination light,when i saw the phone online ,i read among othr things that it has notification led but no or does it has setting
3.heating when charging,phone heats when charging and when u make call for long time(15 minutes upwards)
4. google search bar on the desktop cant be emoved ,y? covers my wallpaper
A
Umidigi is not listed on the site but if you search you can find it? O3O
M
This phone is awesome for The Price,camera is bit weak but the rest is wow,very good job,how much cost one iPhone xs Max? I never ever gonna buy iPhone when i can choose soo many options from China, Love you guys,the phone is wow wow wow wow!!!!!!!!!!!!!!!
D
My biggest gripe about this phone is Bluetooth connectivity to my vehicle multimedia. It just absolutely will not stay connected more than 3 seconds. All Bluetooth speakers and earbuds connect fine. It is a no frills phone, but is fast, seems very sturdy, though it is heavy. Comes with clear silicone cover, as well as screen protector. Great battery life, tons of memory. Overall good value at $170 on Amazon.
D2
I currently own umidigi s2, and I can't say it is a great phone but I feel like umidigi has a few cons when it comes to buying them. I love how it works and how it has been working for a past year, I never had any problems even surprisingly when I was in Qatar in 45-50°C temperatures.
The biggest con of this phone is the camera quality. The photos arent high quality and most of the time end up blury. Lack of 3.5mm jack is also painful. Other than that i find this phone amazing and I think that if I didn't shatter smy screen and camera was better I wouldn't be changing it for the new xiaomi note 7
Total of 33 user reviews and opinions for Umidigi One Max.
ADVERTISEMENTS