Sony is expected to launch the Z4 generation of its flagship devices soon and we've already seen initial rumors for the lot – the Xperia Z4, a compact version, a phablet version and a Z4 Tablet. A new rumor alleges that there will be one more device, a 13" tablet.
Dubbed the Xperia Z4 Tablet Ultra (not to be confused with the Z4 Ultra phablet), the rumored specs sound more like a wishlist than those of an actual 2015 device. We start off with the unusual screen, Triluminos IPS with X-Reality, of course, which will supposedly have 3,840 x 2,400 resolution – that's 16:10 4K UHD.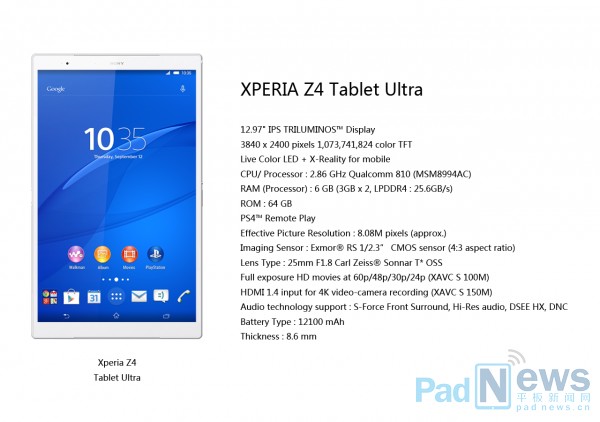 A Qualcomm Snapdragon 810 with a max CPU clockspeed of 2.86GHz will provide the oomph, coupled with an unlikely 6GB of RAM (2x 3GB LPDDR4). There will be 64GB of storage and PS4 Remote Play support, which sound more believable.
The camera is also trumped up – an 1/2.3" Exmor RS sensor with an f/1.8 Carl Zeiss Sonnar T* lens and just 8MP resolution. That's probably the Superior Auto resolution as the rest sounds like an improvement over the Xperia Z3 camera with a better lens (Zeiss f/1.8 instead of Sony G Lens f/2.0).
The Sony Xperia Z4 Tablet Ultra will be a slinky 8.6mm thick and pack a massive 12,100mAh if the rumored specs are to be believed. The image by itself is quite suspicious, holding a massive 13" tablet with such thin bezels will not be comfortable. Also, why is it portrait-oriented (going by the logo and front-facing camera).
All in all it sounds too good to be true. We'll gladly admit if we are wrong and Sony does pull this out monster at CES or MWC 2015, but for now we're skeptical to say the least.
Source (in Chinese)
t
osam!! criteria best of luck sony xperia z3 tablet ultra
?
Now hope microsoft do it 14"inches with this basic specs: 1.Display.- 14"inches 2K and 4K - IPS-Neo + Quantum Dots - CGG NBT 2.Memory.- (LPDDR4) 4GB (2K) & 6-8GB (4K) 3.Chipset.- Tegra X1 (2K) & Intel core M 5gen (4K)
ADVERTISEMENTS