A couple of new Xiaomi devices spotted online, said to be from Redmi series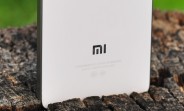 Two new Xiaomi devices have been spotted online. Specifically, entries for the devices - dated June 29 and carrying certificate numbers 2,016,020 and 2,016,021, respectively - can be seen on the website of China's National Quality Certification Center.

While the entries do not reveal much about the devices, reports say they could be new Redmi series smartphones, or could even be new variants of the company's Max smartphone. We'll update you as and when we'll hear more about them.
A
That's good for the Llamas lol I never said anything about it being impossible or unrealistic, but after the SD801 and above any phone can basically run any and all mobile apps and games without any hiccups and navigate the UI without much lag or stu...
A
16GB? You'll never need or use that much RAM on your phone in your lifetime, especially for light mobile apps and watered down games. Large amounts of RAM is more useful for laptops - like the one I have with 8GB RAM in it - and conventional desktops...
Very soon Le Eco will help me to realise my dream phone of 8GB RAM and 256 GB ROM by Dec 2016. I don't know of its battery capacity yet. If 5000mAh, best. If 3.5mm phone jack, best still. So that dude who had doubted me must have been drowned recentl...