We've seen quite a few of our camera samples taken with HTC HD2 getting an annoying pinkish tint in the center. It seems we're not alone and if you're planning into getting one of those you'd better read this.
HTC support acknowledge the issue and admit it's a hardware fault that can not be remedied by a software fix. They recommend everyone that has been experiencing pink tint in the center of camera photos should get in contact with their local store, which sold them the handset and ask for an exchange.
While reviewing the HTC HD2 we noticed that camera issue and assumed that the reason for it might be a problem affecting only our unit (or a limited number of devices). But we're now seeing a growing number of complaints over the matter.
Take a look at the image samples taken with our review unit. Keep in mind that the pink spot is best visible at thumbnail size.
Some HD2 users have already contacted HTC support over the matter and the support guys have recommended them to exchange their handsets with their local vendor. We can't even imagine what would happen if all of the vendor's units are plagued by the same issue.
Luckily, there are quite some HD2 owners whose smartphones don't have that issue (the image below was taken with one of those).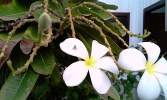 Surprisingly, there is no pink tint here
*Update:* As Mobile TechWorld suggests, HTC support have already started giving another answer to those looking for a a solution to the *pink* issue. And we quote:
"We can confirm that this issue has been determined as a software issue. The developers are working on a hotfix to resolve, and it will be released as soon as possible. There is not a specific date for the release as yet, please continue to monitor the support pages for the release.
We guess they've thought of some clever way to digitally correct the image tint and they'll be incorporating it as part of the camera processing algorithm some time in the future. *End of Update*
M
I am on my 4th phone from T-Mobile in one week. I have the Galaxy S II for 1 year, and about 4 months ago it started with the pink Hue in the center and sometimes around the picture. It is extremely frustrating and both T-Mobile and Samsung said it...
?
My SGS2's pink spot appears only in cloudy conditions and white/grey background.
P
Problem back in new SGS2. Bought and changed 2nd time. The problem still there. Do you think it just a software problems?
ADVERTISEMENTS