LG surely has a knack for fashion designers, folks. After the Prada branded super droid we spotted recently, we have another smartphone to come from the Korean company, dressed in fancy clothes. This time, the outfit is courtesy of the fashion house Jil Sander, and the phone is running Windows Phone 7.5 Mango.
Judging by the E906 branding, we can guess that the device might be a version of the LG E900 Optimus 7, which we know quite well. The unknown model looks quite similar to the E900 at its front, save for the fancier design, and the updated OS. The trio of buttons below the screen have gotten a nice looking texture to them, while appearing to remain hardware ones. As far as the back of the device goes, it has been redesigned, compared to the Optimus 7, but the camera has retained the same spot. This leads us to think that the changes in the new smartphone might be only cosmetic.
At this point we don't have any other information on the good looking, mysterious smartphone. It is needless to say that we will keep you posted, should anything related to it pops up. In the meantime, take a look at a few more shots of the device below, and tell us what you make of it in the comments section.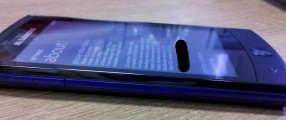 Thanks, anonymous!
m
Well, let's see, for now windows is defintely off my list. You pose yourself as someone who has a lot of experience when it comes to mobile devices but someone from a different thread (htc thread) caught your inconsistencies he he he.
D
You can't compare those two...there is an abyss between. Besides, if you use an WP7 now is smooth and fast (mway more than my Atrix 4G Android) looks like Microsoft want to get for real this time the mobility sector. I want more to see WP8 ...
m
That's what they said with winmo 6.5 before... Windows fooled me once, never going back.
ADVERTISEMENTS