Since its release back in August 2015, Samsung has been fairly persistent in its efforts to update and improve the Gear S2 smartwatch. As previously suggested, however this time around the Korean giant has been working on some major improvements that are now officially out and seeding to devices.

The update bears the firmware number R732XXU2DPFB for the Gear S2 Classic and R730XXU2DPFB for the regular one and weighs 61.1MB. However, despite its relatively small footprint it brings about quite a few new features. First of all, the wearable now gets extra independence as it can install suggested apps from its own interface, without bothering the connected smartphone.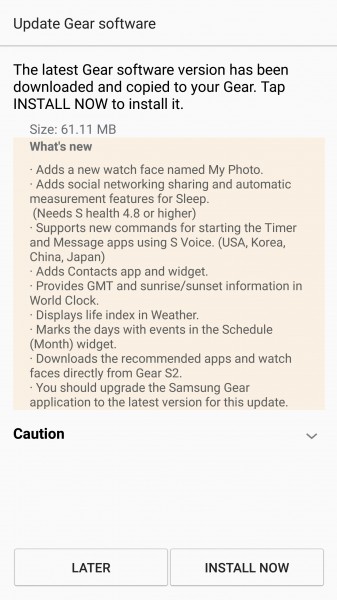 Another big new thing is the ability to set you own pictures as a watchface backgrounds through the My Photos watchface. Again, this can also be done straight from your wrist and allows you to select up to 10 photos to be cycled. S Voice is now more powerful as well. It has a few new features, like being able to fire up a timer through a voice command.

Other things in the update include a new contacts app and widget, separate from the phone and message ones. Also, sleep tracking should now be fully automatic.
D
I just checked and my watch has the "latest update" but the software version is R730VVRU1BPC1... which tells me it's not the latest update. When will they roll this one out?
c
I've been using the update for a month. Is there any way to roll back to the previous software? The update renders the alarm function completely, thoroughly, and utterly useless. Recurring alarms no longer work, and single alarms are really more...
n
i got mine brand new of craigslist for only $150!
ADVERTISEMENTS